Help mark the International Day for the Elimination of Racial Discrimination.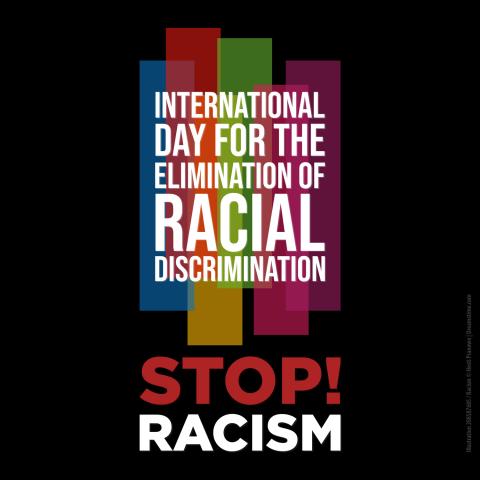 Credit: Illustration 208587605/Racism © Hesti Pranowo | Dreamstime.com
Published On: March 15, 2023
March 21 is the International Day for the Elimination of Racial Discrimination.
The United Church continues to mark this day as one way to focus on dismantling racism in all of its forms. The struggle against racism, however, is not limited to one day alone! It is an ongoing, continuous, and faithful journey that can engage all of us.
Last year, to help mark the International Day for the Elimination of Racial Discrimination, we posted 10 Ways to Work Towards Anti-Racism. They turned out to be popular, and people asked for additional ways to engage in anti-racism work.
This year we have 10 more ways that draw on United Church resources:
Teach children about anti-racism. Learn about anti-racism with children through this collection of anti-racist children's activities. Developed by people from across the United Church, it includes ideas for children's stories, crafts, cooperative activities, ways to engage the Bible, and more. Stay tuned for a six-session anti-racism resource for leaders of children later in 2023!
Challenge anti-Indigenous racism through advocacy. In some Indigenous communities in northern Canada, access to health care is a barrier—some communities lack doctors, as well as specialists such as psychologists and psychiatrists. Equitable access to education and clean water are also challenges. The United Church's Community Capacity Development Coordinators work closely with Indigenous communities and continue to name urgent needs. You can help advocate for racial equity in Indigenous communities by contacting your Member of Parliament.
Download the new anti-racism youth app. Early in 2023, a mobile app called AR4YT (Anti-Racism for Youth Training) was launched. It's available from Apple's App Store and Google Play. The app was conceived as an idea, researched, developed into a curriculum, and designed to engage teenaged youth. The contributors are all Black youth aged 18-22 who are members of the United Church.
Create space to read, then act. Consider reading the book Wait Is This Racist? A Guide to Becoming an Anti-Racist Church, available from the United Church Bookstore. The book offers practical ways to examine different aspects of church life from anti-racist perspectives. It can also assist with creating an anti-racism action plan for a congregation.
Read two new blogs written by United Church teenagers. The blog by Sarah Yang shares her experiences of racial discrimination as a youth of Korean descent. The blog by Matthew Tyhurst responds to Sarah's reflections and explores his own perspectives as a White youth who grew up in a small town.
Give Gifts with Vision. Give gifts to support anti-racism! One option is to give Gifts to Counter Racism. Another possibility is to give Gifts for Healing and Reconciliation.
Participate in Leadership Counts. Who are we, and who are some of our leaders? Leadership Counts—the voluntary identity-based survey of ministry personnel and national committee members—explores these questions. Anti-racism is one of the many equity commitments that are part of this project. You can read more about the reports to date, or if you are ministry personnel or a member of a national committee, you can count yourself in!
Consider investing in anti-racism work. The United Church Foundation has made anti-racism and reconciliation with Indigenous peoples two of its priorities. It is possible to give to the Foundation on an immediate or long-term basis. As well, individuals and congregations who have investment managers could choose to explore these questions with those managers about their anti-racism policies.
Commit to copyright justice. Read more about copyright justice. Then, consider singing any of the seven named songs from More Voices. There are also several practical anti-racism in worship resources available on this website.
Learn more about anti-racism. A new United Church anti-racism video series on Becoming an Anti-Racist Church features four United Church leaders: A Church Rooted in Racism, Theology and Faith, and Dismantling White Supremacist Culture. Another option for learning is to sign up for racial justice education sessions on ChurchX, the United Church's e-learning platform. The 40 Days of Engagement on Anti-Racism can be done at any time of year—they offer opportunities for daily learning, faith reflections, and ideas for action; the program is completely online and can be explored individually or with small groups.
For more background or further exploration, the United Church's anti-racism policy, That All May Be One (2000), the Caretakers of Our Indigenous Circle's Calls to the Church (2018), the commitment to becoming an anti-racist church (2020), and the church's new and current Anti-Racism Action Plan are all part of the church's ongoing anti-racism work.
Downloads