Call on Canada to show global leadership in putting people and planet first!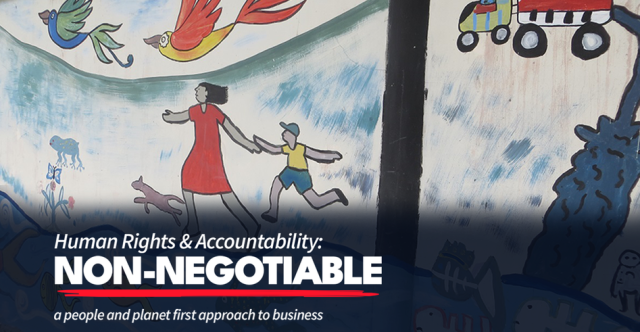 Credit: Canadian Network on Corporate Accountability
Canada has international obligations to protect, respect, and fulfill human rights, including protecting against human rights abuses by Canadian companies operating overseas. Despite knowing for decades that Canadian companies are contributing to human rights abuse and environmental damage abroad, the Canadian government continues to rely on voluntary measures to encourage responsible business conduct.
Call on Canada to adopt legislation that would make the obligation to prevent human rights violations legally binding for Canadian companies operating overseas.
Take Action
Write or call your Member of Parliament. See Letter to Prime Minister in Downloads for sample text.

Tell them about the two private Members' bills.
Ask them to support these two bills when they come before Parliament or committee.
You can find your Member of Parliament's contact information by entering your postal code on the Parliament of Canada website.

Add your name to the CNCA's petition to the House of Commons to show your support for a people and planet first approach to business.
Living Out Our Call
As people of faith, The United Church of Canada has affirmed that we live with respect in creation, that "we cherish and respect the diversity of life and celebrate the beauty of the Earth. For us as members of one family, love and caring are the basis of our relationships with one another and with nature." (One Earth Community, 1992). We continue to affirm this commitment as we seek to live out the church's call to bold discipleship and daring justice!
For well over a decade, United Church people have been aware of the widespread and credible allegations that Canadian companies are linked to serious human rights abuses overseas. United Church partners call us to respond to the grave injustices faced—environmental degradation, extrajudicial killings, incarceration, militarization, and intimidation of community leaders.
On March 29, 2022, two bills were tabled in the Canadian House of Commons:
Bill C-263 would give the Canadian Ombudsperson for Responsible Enterprise (CORE) the powers needed to do this job, such as the power to compel documents and witnesses.
Bill C-262 would have Canada adopt mandatory human rights and environmental due diligence (mHREDD) legislation. Companies would be required to publicly report on and take steps to prevent human rights abuses and environmental harm in their operations. The bill would also make it easier for impacted communities to seek justice through Canadian courts.
The United Church of Canada, as a member of the Canadian Network for Corporate Accountability (CNCA), wrote to Prime Minister Trudeau in April 2022 voicing our support for both bills. We invite you individually and collectively to join us and raise your voice to support these private Members' bills in becoming legislation.
Learn More
For more information, contact:
Christie Neufeldt
Global Partnership Program Coordinator
cneufeldt@united-church.ca
416-231-7680 x4078
1-800-268-3781 x4078