Caring for God's gift of Creation is a spiritual commitment.
The Earth is a sacred trust. We recognize God's call…to draw on the Earth's sustenance responsibly, and to care for it that all may benefit equitably now and in the future.

—from One Earth Community (1992)
What's Happening
A focal point for Climate Justice in Fall 2023 is the United Nations Climate Change Conference of the Parties (COP28). From November 30–December 12, 2023, COP28 will be held in Dubai, United Arab Emirates.
Those least responsible for the carbon emissions that cause climate change are the ones being most impacted: young people, Indigenous communities, and communities in the Global South. These are the ones who need to be driving the change that's needed. The United Church of Canada young adult delegation that is attending COP28 virtually, with participation from Canada and Zambia, is eager to take up this challenge.
For greater impact, the United Church is working with fellow members of the national faith-based climate effort in Canada, COP28 – Unite. Act. Deliver. – For the Love of Creation. Let's raise our spirited voices with faith and civil society efforts across the globe to push leaders at COP28 to unite, act, and deliver on commitments in the Paris Agreement and support calls for a Loss and Damage fund with new money in the form of grants.
All COP28-related posts will appear in the news feed at the bottom of this page. You can also follow #UCCanCOP28 to learn more.
What You Can Do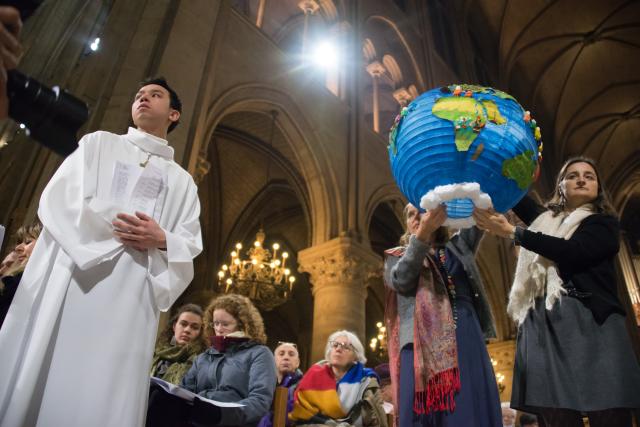 Religious leaders in ecumenical celebration for Creation at Notre-Dame Cathedral, Paris, during COP21 climate talks, 2015.
Credit: Ryan Rodrick Beiler/LWF
The Work of Our Networks and Partners
For more information, contact