When listening to the stories of survivors of gender-based violence, we hear God calling us to work to affirm the human dignity of all.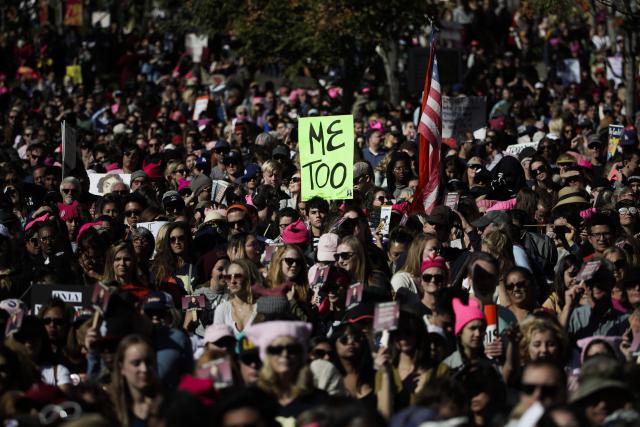 Protesters gather in Los Angeles for a Women's March against sexual violence.
Credit: AP Photo/Jae C. Hong
What We Believe
There is no longer Jew or Greek, there is no longer slave or free,
there is no longer male and female; for all of you are one in Christ Jesus. (Galatians 3:28)
Sex- and gender-based violence is deeply rooted in our cultures, institutions, and religions. It affects ourselves, those we love, and our communities, country, and world. Public campaigns and movements such as #MeToo, Time's Up, Missing and Murdered Indigenous Women and Girls, and the World Council of Churches' (WCC's) Thursdays in Black initiative have affected our thinking, our faith, and our activism.
When listening to painful and inspirational stories of survivors of sex- and gender-based violence, we hear God calling us to work with each other to affirm the human dignity, rights, and needs of all. Gender-based violence can be experienced in many ways. This is violence rooted in gender norms or social expectations that are arbitrary and discriminatory. It includes domestic violence and rape; date rape; rape as a weapon of war; trafficking of women and girls; female genital mutilation; child marriage and forced marriage; and ill-treatment of women, girls, and LGBTQ+ people in the criminal justice system.
Transgender, gender-nonconforming, intersex people, and lesbian and bisexual women are at increased risk for violence. They may face "corrective rape," forced impregnation, or physical attacks. Gay and bisexual men, as well as heterosexual men and boys, can also experience violence that stems from socially determined norms and expectations.
This type of violence does not operate in isolation. For example, racialized and Indigenous women are more likely to face violence. And women who experience domestic and sexual violence can be pushed into a cycle of poverty. (For more information, see the United Nations' Report of the Special Rapporteur on Torture and Other Cruel, Inhuman or Degrading Treatment or Punishment.)
What You Can Do
Join the Thursdays in Black Movement, a global campaign of the World Council of Churches. Through the simple gesture of collectively wearing black, participants create an international public witness for a global movement urging an end to gender-based violence.
More ideas for action can be found at Join the Thursdays in Black Movement under "Take Action."
Resources
See below for resources for all—those who are engaging these issues for the first time, those who may be retraumatized by what they've been reading and hearing, and those who are spurred by injustice and want to take action.
Downloads