March 21 is the International Day for the Elimination of Racial Discrimination.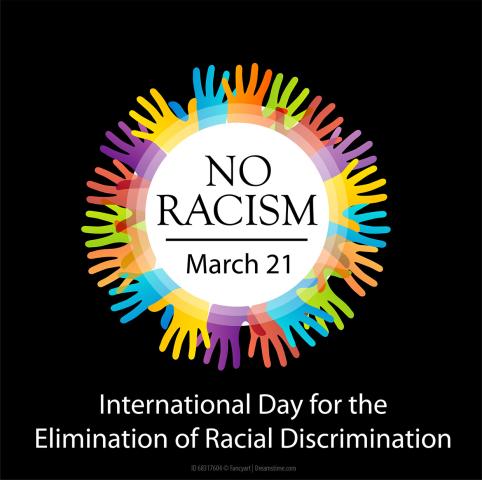 Credit: © Fancyart | Dreamstime.com
Published On: March 15, 2022
The United Nations has designated March 21 as the International Day for the Elimination of Racial Discrimination. This day offers a particular focus on dismantling racism in all its forms, and it has been observed around the world every year since 1966.
The United Church made a commitment to becoming an anti-racist church in 2020, and the church's anti-racism policy dates back to 2000.
It is important to focus on anti-racism during a day such as the International Day for the Elimination of Racial Discrimination! However, as the United Church's anti-racism policy reminds us, the struggle against racism is a continuous effort. This means that anti-racism work is important on any day and every day.
With this in mind, here are 10 ways that you could continue to work towards anti-racism. This features a range of existing—and new!—United Church resources to explore throughout the year.
Explore the United Church's national Anti-Racism Action Plan, a 3-year anti-racism strategy for the United Church as a whole. Developed by the Anti-Racism Common Table, a regionally and racially diverse United Church national committee, the plan offers strategic directions and clear goals for the church's anti-racism work. Everyone is invited to reflect on and engage with the goals, and to consider what they might mean within their local context.
Incorporate anti-racism into worship. Worship resources are available for the International Day for the Elimination of Racial Discrimination on the United Church website, including this prayer written by Moderator Richard Bott. Additional resources are available on anti-racism in worship. Consider viewing the recording of the January 2022 webinar on Anti-Racism and Your Music Ministry, available through United-in-Learning.
Read United Church anti-racism blogs. A new blog written by the Anti-Racism and Equity Lead explores the impact of systemic racism as well as personal commitments to ongoing work. Several other blogs also focus on anti-racism and offer personal reflections.
Commit to work on anti-Indigenous racism. When The United Church of Canada adopted the United Nations Declaration on the Rights of Indigenous Peoples as the framework of reconciliation in 2016, that included adopting the anti-racist position that Indigenous Peoples should be free from discrimination. Yet in Canada today, Indigenous peoples continue to be made to live under the control of an explicitly race-based piece of legislation, the Indian Act. You can learn more about this Act in Bob Joseph's book, 21 Things You May Not Know About the Indian Act. Will Canada's pledge to implement the Declaration have any impact on this colonial legislation? As the recent events related to Canadian Human Rights Tribunal findings over Canada's racially discriminatory funding of Indigenous child services shows, concrete action to end more than a century of racist policies is not easily forthcoming.
Explore the 40 Days of Engagement on Anti-Racism, a program launched in October 2021. Each "day" of the program features opportunities for learning, faith reflections, children's activities, and ideas for advocacy and action from writers across the United Church. There are also videos available featuring some of the writers. The 40 Days can be engaged at any time of year!
View the United Church's new anti-racism video series featuring United Church leaders talking about different forms of racism, sharing stories, and offering challenges for the church. The first video is now available to watch; others will be added in the coming months. Each video is 3-5 minutes long, and can be used in worship, for personal reflection, or study. At a later date, study and reflection questions will be available for each of the video in the series.
Participate in racial justice training. The United Church offers racial justice education sessions which are open to anyone and are continually updated. Even if you have engaged in racial justice training before, it can be helpful to engage with it again.
Reflect on the new Anti-Racism statement from the United Church Foundation. An independent organization created to hold and manage financial trusts and endowments that support and empower The United Church of Canada and its communities of faith, the Foundation has committed to becoming an anti-racist organization. Through initiatives such as training, discussion, revision of processes, procedures, and policies, and the incorporation of the principles of Diversity, Equity, and Inclusion, the Foundation will commit to anti-racist practices throughout its fundraising, investing, governance, and granting activities. The Foundation's anti-racism statement could be an inspiration for similar statements for communities of faith—and commitments to living it out.
Read a book about anti-racism. The United Church Bookstore has books that explore anti-racism, Indigenous justice, intercultural engagement, and related themes. One featured book is Healing Haunted Histories: A Settler Discipleship of Decolonization. This book tackles the oldest and deepest injustices on the North American continent—violations which inhabit every intersection of settler and Indigenous worlds, wounds that are woven into the fabric of our personal and political lives. It argues that we can heal those wounds through the inward and outward journey of decolonization. It is part memoir, part social, historical, and theological analysis, and part practical workbook. 
Pray, reflect, and act on racism in all its forms. One possibility is to explore the regional prayers created by World Council of Churches in the lead up to the International Day for the Elimination of Racial Discrimination. People from the United Church were involved in the creation of the regional prayers from North America.
We hope that you might find ways of engaging with anti-racism on March 21 and throughout the year. More details about the church's anti-racism work are available in the anti-racism section of the website.