People of faith are called to live out the responsibilities of citizenship and of discipleship!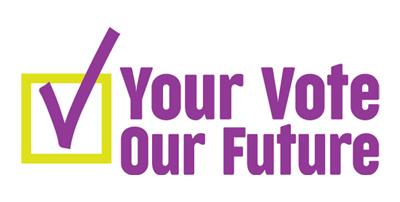 God's people are called to faithfully engage with the world around them. Many United Church communities of faith answer God's call by feeding those who are hungry, housing those who are homeless, and advocating with vulnerable persons.
Choosing to vote is another way to answer to God's call. People of faith can bring God's vision of fullness of life for all our relations into the conversation, setting an agenda for the election campaign and for the resulting government. We can work toward a world in which the welfare of one is the welfare of all.
United Church people through the decades have made and continue to make their voices heard on significant justice issues. In 2021 contribute your voice and vote!
"But seek the welfare of the city where I have sent you into exile, and pray to the Lord on its behalf, for in its welfare you will find your welfare." (Jeremiah 29:7)
United Church Engagement
Use this background on what the United Church and global partners believe and do to actively engage candidates, ask them specific questions, and share your expectations of them.
Anti-racism
The United Church of Canada has made a commitment to becoming an anti-racist church, and is working towards dismantling racism in all its forms. All systems serving residents of Canada would also ideally work towards challenging racial injustice. Ask your candidate what specific actions they and their political party plan to take in order to create more racially just, equitable, and accessible systems and services.
Indigenous Justice
Discerning who to trust with federal leadership on issues of reconciliation and Indigenous justice might begin with reflection on the seven teachings sacred to many Indigenous nations: respect, truth, courage, humility, honesty, love, and hope. Who best embodies these teachings on matters critical to Indigenous peoples? 
Guaranteed Livable Income
COVID-19 support payments showed that the government can take swift, broad action when people face income insecurity. Creating a guaranteed livable income program would ensure that all Canadians have a secure economic floor to stand on. Will your candidate and their party implement a guaranteed livable income for all?
Vaccine Equity
The COVID-19 crisis won't end for anyone until it ends for everyone. Will your candidate and their party actively prioritize and fund vaccines for all globally?
Ecumenical & Civil Society Engagement
God's vision of a new world is accomplished through partnerships. We are members of several networks also asking the hard questions on Climate Justice, Environment, Racism, Peace and Disarmament, Poverty Eradication, Refugee Rights, Resource Extraction, Sexual Exploitation and more.
Personal Engagement
Participate in the election process by: 
asking important questions of the candidates wanting your vote. Tips on how to do this are in the downloads section.
finding out what issues your Regional Council is encouraging you to take action on.
talking to others in your communities and collaborating with them on election actions.
planning an All Candidates meeting in person or online. Tips on how to do this are in the downloads section.
praying in worship, in small group gatherings, and with election candidates.
visiting our blog section to read reflections on different aspects of Faith and Politics.
sharing, tagging, and generally promoting UCC social media posts.
The founders of this church believed that ours is a living faith and a witness to the ministry of Jesus Christ, expressed through active, thoughtful involvement in society spanning a wide variety of justice issues. Visit the Social Action section to see the full spectrum of our work.
Want to know more? Want to tell us what has worked for you? E-mail 
Downloads