"After what happened to George Floyd, I wanted to get involved."
Primary Media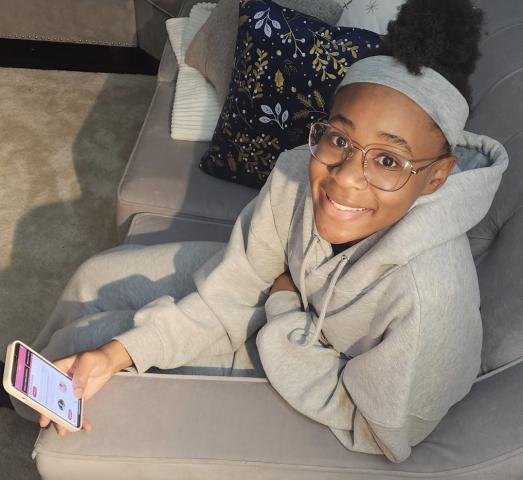 Credit: Jonisha Lewinson
Published On: November 3, 2022
Body
The murder of George Floyd had a profound affect on Jonisha Lewinson, a college student and member of North Bramalea United Church. "Although I had experienced racism, I hadn't been interested in exploring it, but after what happened to George Floyd, I wanted to get involved," she says. "I decided I wanted to not just have a quiet voice but an active voice in making information about anti-racism available to people."
Shortly after she made that internal commitment, a friend told Lewison that the United Church was inviting young people to apply to the Young Black Scholars Program project, part of the church's commitment to the United Nations International Decade for People of African Descent. Each of the participants was tasked to research and report on various aspects of Black experiences in Canadian churches and received a scholarship supported through your Mission & Service gifts for their work.
From there, the idea for an app-based curriculum that would inspire teens ages 12─18 to become anti-racist was born.
Jonisha landed the contract to develop the curriculum for the app and is currently one of four young adults leading the project. Through the app, teens learn about topics like the history of racism in Canada, White privilege, and how to get involved in anti-racism work. Each of the units includes audio, video, and chat features. Called ar4yt (short for "Anti-Racism for Youth Training"), the app is set to launch January 1, 2023, and will be freely available on Google Play and the App Store.
"I've never written a curriculum before, so there was a lot of research. It was a big learning experience not just in creating the curriculum but learning about how racism affects different people in Canada other than myself," reflects Jonisha.
What does she hope young people will take from the experience with the app?
"Part of dismantling racism means having conversations on a smaller scale with friends and family. That means just as much as being part of huge organizations. I hope that young people engaging with the app realize that making change is not as difficult as it seems," she says.
Your generosity through Mission & Service supports the leadership of young adults like Jonisha who are actively using their talent and skill to change our world for the better. Thank you!