"Youth are ready and eager to act for climate and to take a leadership role."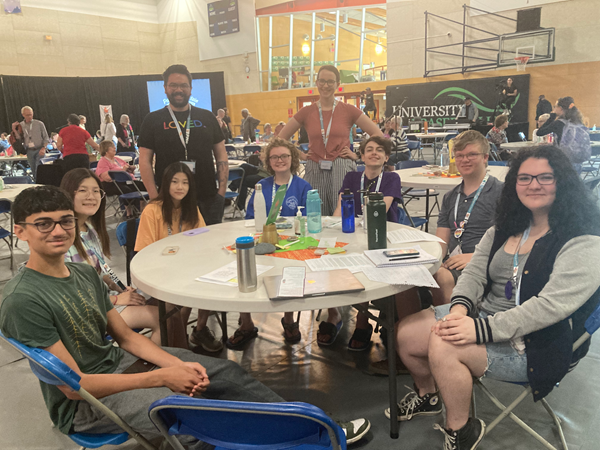 Members of the Chinook Winds and Pacific Mountain Youth Councils
Credit: Chris Mah Poy
Published On: July 4, 2023
This summer, 15 youth from across the church will participate in The United Church of Canada's first-ever Climate Motivators program. Each student is sponsored by, and in partnership with, a local community of faith as they work together on local climate justice or environmental needs.
The motivators will also connect with each other online and gather in person for two weeks to worship, be in nature, act for change, and influence church policy. One of these weeks will be spent with Moderator Carmen Lansdowne as they share their work with each other and use the insights to inform hers.
The program is co-led by three young adult climate coordinators, and supervised by the GO Project in partnership with the General Council Office. All coordinators and motivators are funded through the Canada Summer Jobs Program. One of the coordinators, Thea Sheridan-Jonah, is excited about the leadership of youth.
"Almost a month ago, I attended the Pacific Mountain Region's (PMRC's) Annual General Meeting in Abbotsford, BC. There, the PMRC youth council proposed two resolutions. First, "Supporting Leadership of Adolescents & Youth" or SLAY, and second, "Get Rid of Greenhouse Gases," or GROGG," she says. "These proposals were written, researched, and proposed by the youth, to advocate for themselves, the value of their voices, and the climate justice changes needed to support their futures. Youth are ready and eager to act for climate and to take a leadership role. This Climate Motivator program is just what they've been waiting for!"
The foundation of the program is the four climate pillars named in the strategic plan of the United Church:
Getting Our House in Order
Connecting with the Earth
Raising Our Spirited Voices
Responding to Climate Impact
A pillar is a beam that gives support to the building that encompasses it, similar to a column but unique in function, because without a pillar a building might collapse. Our denomination has committed to building around these climate pillars. As The United Church of Canada continues to strategize around growth, these pillars are part of our foundation, as are the youth who continue advocating for them.
Two other coordinators, Conor Russell and Skyler Boylan, participated this spring in the CFGB Hunger on the Hill program in Ottawa. They are excited to bring this experience and other opportunities for advocacy to the Climate Motivator program this summer. With their leadership, the motivators will learn more about the political process and have the opportunity to raise their spirited voices with elected decision-makers.
The Climate Motivators program provides youth the opportunity through our denomination to not just express their passions but also to act. Youth will learn more about, and encourage more, participation in specific climate efforts, such as Faithful Footprints and For the Love of Creation, while also getting paid for their valuable time. They will deepen their relationship to their faith and their communities of faith, build community with peers, and work with church leadership, including the Moderator.
The Climate Motivators program begins on July 3. You are encouraged to follow along and watch for the work they will be doing. They will be posting on social media using #UCCan and #UCCanClimateMotivators. Their example can prompt us all to think once again about making space for youth to have a strong voice and where we can act for climate change. Because, in partnership with our youth, we strengthen the pillars of Getting Our House in Order; Connecting with the Earth; Raising Our Spirited Voices, and Responding to Climate Impact.
Thea Sheridan-Jonah (she/her) is one of three climate coordinators this summer, along with Skyler Boylan and Conor Russell. Thea is a Political Science and Indigenous Studies student at UBC who serves on the General Council Executive and Pacific Mountain Regional Executive.