Conor Russell shares his recent experience attending Canadian Foodgrains Bank's Hunger on the Hill, in Ottawa.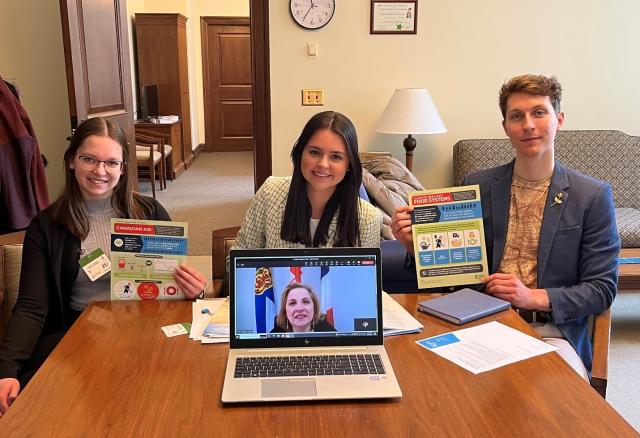 Hannah Grace Peters, Skyler Boylan (UCC, Bedford, NS) and Conor Russell (UCC, Guelph, ON) with MP Lena Metlege Diab (Halifax West)
Credit: courtesy of Conor Russell
Published On: April 18, 2023
In celebration of Together for the Love of Creation 2023, The United Church of Canada is sharing stories of how people are Praying, Learning and Acting for Climate Justice. Today, we meet Conor Russell, Acting for Climate Justice.
Last month, I participated in Canadian Foodgrains Bank, Hunger on the Hill, in Ottawa, wherein youth leaders built up our political advocacy skills and applied them to addressing global hunger and environmental issues. Food insecurity is on the rise worldwide—and the Canadian Government and Canadian Civil Society Organizations, like the Canadian Foodgrains Bank and their partners—have a vital role in reversing that trend.

Youth leaders from different political persuasions and religious denominations across Canada came together to work towards these common goals. We met with MPs from all parties to encourage them to meet Canada's international aid obligations, especially those around global hunger. We encouraged them to raise awareness of the issue, work to influence global hunger and climate policies in their political parties, and apply pressure for decent aid in coming federal budgets.

Time will tell if our efforts—in conjunction with other organizations doing similar work—will have an impact. As the small-scale farmers Canadian Foodgrains Banks supports in their work, we tried to plant seeds for present and future harvests/budgets, hoping they fell on good soil.

One highlight was a session we had with politicians from four different parties. In sharp contrast to the question period dynamic of conflict and antics, it was encouraging to witness these politicians from a broad spectrum of positions share and converse respectfully and constructively.

I'm grateful to The United Church of Canada for helping cover travel and some registration expenses so I could learn more about global hunger and environmental issues, further develop political advocacy skills, and experience ecumenical fellowship and mission with other young leaders across Canada. 

Conor Russell of Guelph is one of five United Church young adults who participated in this national event. The others are Torren Maag (Sudbury), Leah Chambers (Bedford), Celia Teyssier (Toronto), and Skyler Boylan (Halifax). They are all eager to share more about their experience and support communities in contacting their Member of Parliament. Contact pip@united-church.ca to connect.

To raise your spirited voice, consider signing on to the Give it up for the Earth open letter to Minister of Environment and Climate Change, Steven Guilbeault calling for Climate Justice.
The views contained within these blogs are personal and do not necessarily reflect those of The United Church of Canada.