Equity and Sustainability in Resources
Strategic Objective Significantly increase denominational capacity and will to make decisions on properties and resources focused on the ministry of the whole church, enhancing equity, sustainability, right relations, and administrative efficiency and effectiveness.
Renewing our attention to growth includes unleashing denominational capacities to support the whole church. Priority activities related to the common good include:
| GC Proposal Number(s) | Priority Activities | Progress |
| --- | --- | --- |
| GCE07 | Implement a self-insurance program for all church entities. Reduce a significant cost and stressor by 15-30%. | |
|   | Integrate granting and donation portals to improve efficiency, transparency, accountability and our ability to tell our story. | |
|   | Steward church buildings or money released from sales for future ministry, strengthening and seeking to align existing regional council property policies including reconciliation and reparations considerations. | |
|   | Promote, encourage and increase giving in support of denominational work and target a national capital fundraising program for the church's 100th anniversary. | |
|   | Develop a cross United Church or potentially cross-denomination strategy for information management. | |
*Progress is determined from percentage completion of planned key results in a given quarter.
For questions on the Strategic Plan, or for a summary of all 2023 Operational Plan Activities, contact planning@united-church.ca .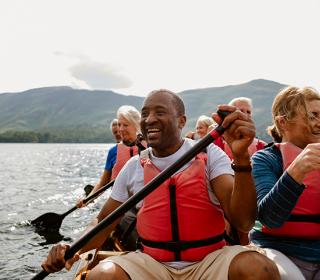 During 2023, the church will be conducting a review of all its grants and granting functions.
A prayer for the renewal of the church by the Rev. Karlene Brown-Palmer, St. Paul's United Church, Tillsonburg, Ontario.