Forging Right Relations
Strategic Objective: Deepen Indigenization and healing in The United Church of Canada towards self-determination and the possibility of reconciliation.
Living our commitments includes enabling an autonomous Indigenous church with vibrant ministry within and alongside the United Church.  Priority activities related to Indigenous pathways include:
| GC Proposal Number(s) | Priority Activities |
| --- | --- |
| NIC01; GS10 | Build consensus towards a governance structure for the Indigenous Church. |
|   | Initiate new local Indigenous ministries, with a focus on urban communities. |
Reflection on Progress in Quarter 1, 2023
As we walk together, the Indigenous and Non-Indigenous United church, we have much to relate and recognize as we step further on the concentrated work and planning on our Indigenous Pathway within the Strategic Plan, with a priority on the structure of the Indigenous United Church. The National Indigenous Council (NIC) and the National Indigenous Elders Council (NIEC) have met in their planned monthly meetings this first quarter of 2023 focusing on the National Indigenous Spiritual Gathering (NISG) 2023. Part of our Indigenous Pathway is to focus on our Indigenous Spirituality. In order for our leadership from NIC and NIEC to start this dialogue, we look to our Sacred Bundle held by our bundle keeper till the next NISG in July 2023 in Edmonton, Alberta. The NIC has been working on the structure recommendations and best appointment processes for a newly appointed National Indigenous Council that will be named at the National Indigenous Spiritual gathering. These are first steps to the process of the Indigenous Pathways and the continuous work that the Indigenous church look forward to creating and living in.
For questions on the Strategic Plan, or for a summary of all 2023 Operational Plan Activities, contact planning@united-church.ca .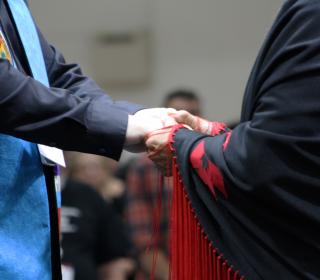 The 44th General Council has authorized a remit on removing structural barriers so that the Indigenous Church can determine its place and structure…
continue reading
A prayer for the renewal of the church by the Rev. Karlene Brown-Palmer, St. Paul's United Church, Tillsonburg, Ontario.