We believe that justice is the public face of God's love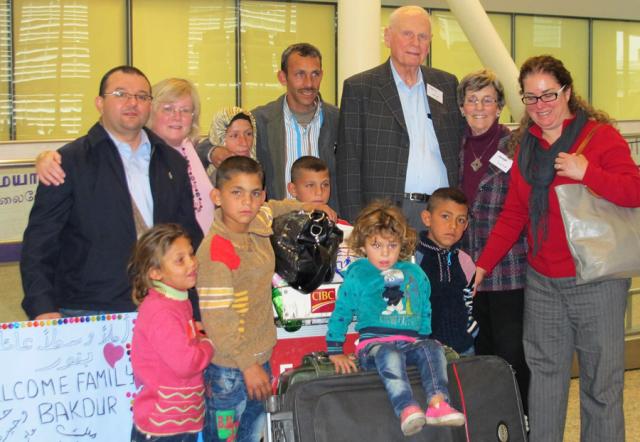 A refugee family from Syria is welcomed at the airport by their sponsors, folks from Metropolitan United Church, Toronto
Credit: Peter Vinet/The United Church of Canada
Published On: November 16, 2015
The United Church of Canada cares for refugees because we believe that sharing God's love is our prime purpose. We believe that justice is the public face of God's love, and work to share God's love on a personal, local and global level. 

I see the face of God in refugees' faces: those claiming protection, resettled, warehoused in urban ghettos or camps the size of small cities. Refugees embody the world's brokenness. The image of a refugee child sheltering in a cattle's shed or lifeless on a shore, cuts to the heart of God's justice. To quell the hurt, I must respond. 

I believe in one's power to change the world. I know my sponsoring one refugee strengthens the asylum process and extends resources for others. I have found the personal encounter—that allows me to see myself reflected in the other—to be an effective change process. Recognition of the strength and gifts refugees bring gives me insight into my corner of the world. 

By connecting, with claimants and/or resettled refugees, I see what is good about Canada and what should be better. The personal is political. I need to make the system/world better for my new friend. Human survival depends upon our heeding humanitarian instincts and interconnections. 

John Lennon imagined all the people sharing all the world. Imagine God's just reality over-riding all boundaries and do what you can to help. Share yourself and your small corner with refugees and change the world. 

No one chooses to be a refugee; 'no one puts their children in a boat unless the water is safer than the land' (Somali poet, Warsan Shire). But some of us can choose to make the land a little safer for Syrians, for South Sea Islanders, for us all. The key is to embrace refugees - the survivors of man's inhumanity, the harbingers of the changes needed in our world. 

National staff and a network of refugee activists across our church are here to support you. 

For more:
By Heather Macdonald 
H eather is a former national staff, actively involved in BC Conference's Syrian refugee response, and a founding member of the Refugee Sponsorship Training Project.