Support The United Church of Canada and the United Church of Christ's efforts to end PayPal's discrimination against Palestinians.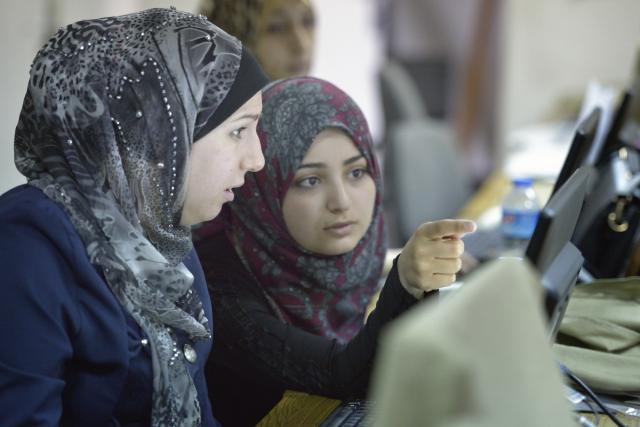 Women in a computer and secretarial skills class in the Vocational Training Center in Gaza City. The center is sponsored by the Department of Service for Palestinian Refugees of the Middle East Council of Churches; DSPR is a member of the ACT Alliance.
Credit: Paul Jeffrey/ACT Alliance
The only remaining hope is in the churches' prophetic voice and action. Today, gathered here in Palestine, in the city of the Prince of Peace, we tell you: Do not be afraid. Do not fall in the "fear" of the world political powers. Do not abdicate. Do not silence in yourselves the voice of God, who is a God of love, not a God of war. (Patriarch Emeritus Michel Sabbah, Latin Patriarchate, Holy Land)
A harvest of justice is sown in peace for those who make peace. (James 3:18)
Blessed are those who hunger and thirst for justice, for they will be filled. (Matthew 5:6)
As consumers buy more and more online, PayPal has seen a rise in its market share. Its invitation to use its services states, "From everyday purchases to running a business, people around the world rely on us to pay and get paid." PayPal is popular, well-known, and convenient, and is used by entrepreneurs, businesses, and non-profits in over two hundred countries around the world.
But PayPal has refused, so far, to contract with Palestinian businesses and banks in the West Bank or Gaza. Settlers, banks, and merchants in the illegal settlements, however, can freely access PayPal individual and merchant services in the same territory, using Israeli bank accounts. Palestinians are unable to establish bank accounts in Israeli banks, and are therefore excluded, which may demonstrate complicity in a discriminatory status quo in a region still struggling to resolve deep conflict. This hurts PayPal, hurts Palestinians, and supports the Israeli occupation because
it is an obstacle to Palestinian tech sector growth
it prevents Palestinian entrepreneurs and non-profits from receiving payments and contributions
it forgoes an opportunity for PayPal's expansion into a profitable Palestinian market, which could be easier to enter than some other countries PayPal has already entered
it provides services to illegal settlements that sustain the occupation
Take Action
Join The United Church of Canada and the United Church of Christ in requesting PayPal to

extend services to West Bank and Gaza Palestinians; and
cease extending services to the illegal settlements.

There is a sample letter for you to use and adapt under Downloads, below.
E-mail us to let us know if you are acting on this Take Action. Let us know at  if you are avoiding using PayPal, are writing to PayPal, or have signed the Petition to PayPal.
Get more informed about PayPal and Palestine by reading the fact sheet, under Downloads, below.
Background
The United Church of Canada has a long history of working with others seeking peace with justice in Israel and Palestine. This work is rooted in the gospel mandate to be peacemakers and in response to the calls of Palestinian and Israeli partners. Violent acts such as the killing of both Palestinian and Israeli civilians, use of excessive force by Israeli police and army against protesters, extrajudicial killings, and collective punishment are obstacles to a just and lasting peace.
The 41st General Council in August 2012 called on United Church people to take concrete actions to support the end of the Israeli occupation of Palestinian territories. Unsettling Goods invites congregations and individuals to "Pray, Choose, Speak for Peace in Palestine and Israel" by engaging in a range of actions that support a just peace.
International law prohibits an occupying power from transferring its own civilians into occupied territory, and the International Criminal Court and the International Court of Justice have ruled that Israeli settlements in Palestinian territories are a violation of the Fourth Geneva Convention. Both the United Nations ("Settlement plans threaten renewed hopes for Israeli-Palestinian peace, UN envoy warns") and the Canadian government ("Canada and the Middle East Peace Process") state that the settlements are a serious obstacle to peace in the region.
The United Church of Canada has identified the occupation as a major contributor to the injustice that underlies the violence in the region, and is encouraging its members to take a range of actions to support the end of the occupation, including avoiding products produced in or related to the settlements. Companies that operate in settlements provide economic support for the government of Israel's practice of establishing settlements in Palestinian territory. That's why the United Church is joining other churches and non-governmental organizations around the world to support peace in Israel and Palestine by taking economic action against products made in or related to Israeli settlements.
For more information about current activities, see Unsettling Goods: Choose Peace in Palestine and Israel.
For more information, please contact:
Downloads