Transforming United Church properties to meet community needs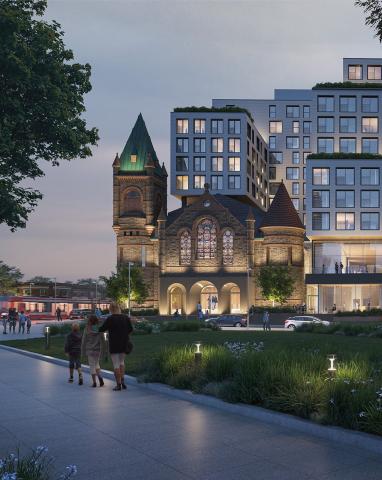 Artist's rendering of proposed development at St. Luke's United, downtown Toronto
Credit: Kindred Works
Kindred Works and the United Property Resource Corporation (UPRC) are two individual organizations united by one vision.
The UPRC was founded by The United Church of Canada to bring professional real estate expertise to communities of faith, providing them with all the information needed to make faithful decisions about their real estate. And Kindred Works will act as the UPRC's development and asset manager―developing and managing land on behalf of The United Church of Canada, our communities of faith, and ecumenical partners.
Unlocking potential across Canada
Kindred Works is building a nationwide portfolio of mixed-income rental housing and gathering spaces, with an aim to create homes for 34,000 people in the next 15 years.
Doing so will enable churches to continue offering the services and support that already exist, and extend the potential of their spaces to as many people as possible―because at the heart of Kindred Works' vision is the belief that a secure and stable home can be the foundation for a life full of opportunity.
Working a different way
Through its projects Kindred Works aims to create as many opportunities, and as many social, environmental, and financial benefits, for as many people as possible. To do this, they're pioneering a new approach―one that embraces partnership, puts profit to work for people, promotes sustainability, and advances right relations, anti-colonialism, and anti-racism approaches.
Making ideals reality
To spread the benefits of their projects as wide as possible, Kindred Works aims to spend at least 80 percent of their project costs with local labour and businesses, and by 2030 they plan to produce 80 percent less carbon in construction than today's industry standard. These are big ambitions driven by ideals―but with the help of communities of faith, it's a vision that can be realized.
Find out more about Kindred Works and the opportunities they can help you create.