"We are working with these people…so they don't become victims."
Primary Media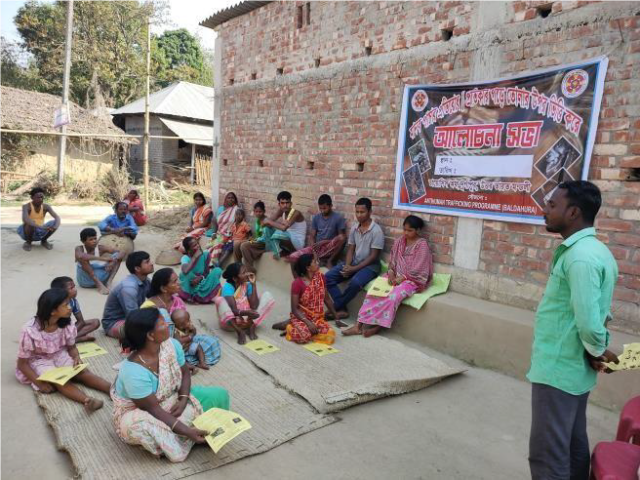 Participants gather for an anti-human trafficking education program.
Credit: Diocese of Durgapur
Published On: May 13, 2022
Body
In December 2020, we shared Lakshmi's story. Lakshmi, a teenager from West Bengal, India, was trafficked by her aunt, who promised that Lakshmi could earn money "dancing." Thankfully, the story had a happy ending. Lakshmi's parents contacted the Diocese of Durgapur, which runs an anti-human trafficking program supported by your Mission & Service gifts. The Diocese intervened, and on the threat of legal action, Lakshmi's aunt returned her to her parents.
Over the year since we published Lakshmi's story, the Diocese of Durgapur has been busy initiating life-saving anti-trafficking programming, advocacy, education, and relief efforts.
Here's an update. In 2021, your support through Mission & Service meant that
985 key leaders became aware of anti-human trafficking methods, including youth, church, and community leaders
20 young people received computer training
9 families learned bamboo crafting to augment their income
500 families received relief during COVID lockdowns, including food hampers and personal protective equipment
CCTV cameras were installed in the Malda Safe Home, which houses 21 children
Now that people are returning to work after COVID lockdowns, the efforts of the Diocese and ongoing Mission & Service support are especially critical.
Most of the people the Diocese of Durgapur reaches out to live below the poverty line and earn their livelihood through agriculture and labour. "They go to other states looking for work and sometimes fall victim to human trafficking. Now as COVID-19 restrictions are lifted, people are again getting ready to go outside for work. We are working with these people, especially in the areas where people were trafficked earlier, so they don't become victims," says Raja Moses, a Project Coordinator for the Diocese.
Your generous gifts through Mission & Service support anti-human trafficking programs run through the Diocese of Durgapur, directly impacting thousands of lives. Thank you!
Downloads