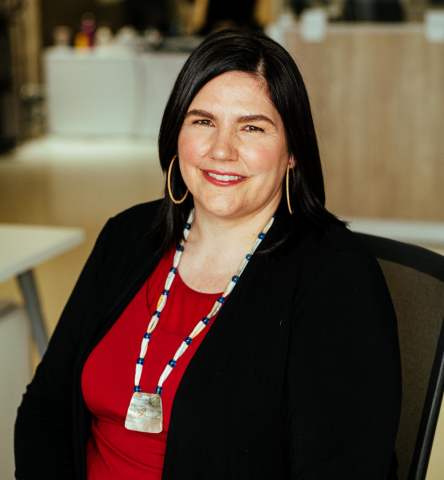 The Right Rev. Dr. Carmen Lansdowne, 44th Moderator of The United Church of Canada
Credit: Rev. Dr. Carmen Lansdowne
In articulating her vision for The United Church of Canada, the Rev. Dr. Carmen Lansdowne, Kwisa'lakw, speaks of a church committed: "To build new connections and rebuild old ones. To work towards social change that sees a world cared for, and human dignity honoured. To walk together every day in repentance and reconciliation. To march and fight and change unjust systems together. To pray together. To sing together. To discern together."
Born in Alert Bay, BC, and a member of the Heiltsuk First Nation, Moderator Lansdowne attended the Vancouver School of Theology (VST) and was ordained into The United Church of Canada in 2007. She served Marengo Pastoral Charge (Alsask and Loverna, SK), and then went on to complete a PhD from Graduate Theological Union in Berkeley, California. She continues to maintain academic interests through guest lectures and various writing projects and as a Christ Institute Fellow with the Westar Institute.
In addition to her theological contributions as a writer and speaker, the Moderator has served the church in a variety of roles locally, nationally, and with the World Council of Churches. As Moderator, she will be on leave from her position as Executive Director of First United Church Community Ministry Society, which serves the people of Vancouver's Downtown Eastside.
Elected in July 2022 at the 44th General Council (held entirely online), Lansdowne spoke about how, "for too long, our words and messages to each other in the church have been centred around fear." She invoked the visions promised in the book of Joel and of Acts, inviting the church to embrace prophecy and dreams and "live into new and engaging ways of living into the beloved kin-dom in the world." Speaking of priority concerns—reconciliation, climate emergency, and economic inequality—she expressed gratitude at the opportunity to continue in conversation and discipleship together over the coming triennium.
Moderator Lansdowne's vision is abundant life for all. In addition to being an ambassador for the new Call and Vision of The United Church of Canada, the Moderator has identified three main priorities for her tenure:
Engage Canada in change-making conversations involving for-profit, non-profit, faith, and different levels of government on issues that matter, resulting in deep dialogue and bold commitments.
Widen the engagement of the Moderator's office within and beyond the church.
Mentor and lift up next-generation leadership in the church, including Elders in the process.
Moderator Lansdowne
joined First United Church Community Ministry Society as Executive Director in February 2017
has served on the Executive and Central Committees of the World Council of Churches and various subcommittees
has served as an ex-officio corresponding member of the General Council Executive
has served on the Pension Board of The United Church of Canada; the Theology, Inter-Church and Inter-Faith Committee; and various subcommittees
has served as one of six facilitators offering feedback from commissioners at General Council 43 and one of five facilitators at General Council 44
chaired the Indigenous Candidacy Board of the United Church
has served on the Keepers of the Vision of the Sandy Saulteaux Spiritual Centre
sits on the Board of Directors of the Vancouver Foundation, Canada's largest community foundation, until April 2023
She will work from both Toronto and Burnaby. She lives with her partner and two children in Coquitlam, BC. She remains committed to Indigenous ways of being, partnering, and parenting.
Media