Call for Canadian Prime Minister to support genuine democracy and rule of law in Haiti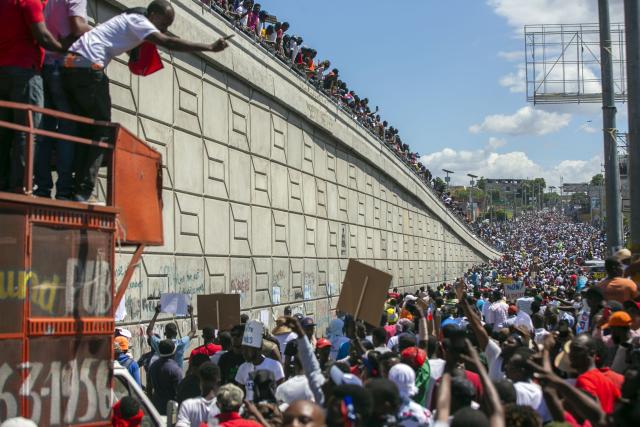 People protest to demand the resignation of Haitian President Jovenel Moise in Port-au-Prince, Haiti, Sunday, 28 February 2021.
Credit: AP Photo/Dieu Nalio Chery
Published On: March 9, 2021
Led by the Concertation pour Haïti, 25 Canadian labour, human rights, and faith groups including The United Church of Canada have written to Prime Minister Trudeau to call for an end to the government's complicit silence regarding the social and political crisis in Haiti and its support of Haiti's de facto president Jovenel Moïse. According to numerous analyses, the tacit support of several nations including Canada has allowed Moïse to remain in power despite massive public protests since July 2018.
The letter expresses support for Haiti's civil society, which is currently mobilizing to defend genuine democracy and the rule of law in Haiti.
"Respect for the rights of the Haitian people and an end to impunity and the violence that undermines democratic practices requires respect for the Haitian people's right to self-determination and an end to external interference in this democratic transition process.
"We further respond to [Haiti's civil society's] international call to 'show solidarity with the Haitian people in their efforts to rid themselves of the criminal, regressive, corrupt and dictatorial regime' headed by Jovenel Moïse."
In its letter the groups urgently request that the prime minister take the following actions:
Through the United Nations Integrated Office in Haiti (BINUH), the OAS, and embassies, stop supporting the criminal and unconstitutional regime of Jovenel Moïse and respect the Haitian people's right to self-determination.
Canada, a key member of the Core Group, cease its support to the Moïse government, as it has been increasingly decried and denounced for its involvement in massacres and violence aimed at establishing a climate of terror, removing the opposition and preventing the emergence of a real transition.
Canada cease all forms of support for the illegitimate electoral process and the constitutional reform project that the government wants to put in place, because the process does not respect the standards of independence required to establish a government's legitimacy. The presidency, having failed to organize the legislative elections provided under the Constitution, now governs by decree, holding all powers alone.
Canada and international institutions consider transitional alternatives, without external interference, proposed by the various sectors of the opposition and civil society instead of blindly supporting the government of Jovenel Moïse.
Downloads