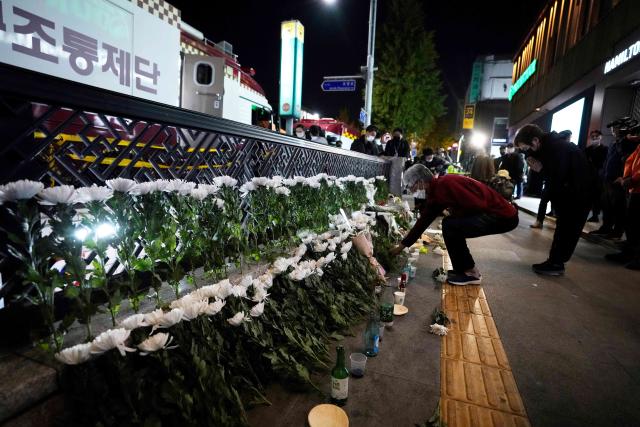 A woman places flowers at a memorial for victims in Seoul, South Korea, Oct. 30, 2022.
Credit: AP Photo/Ahn Young-joon
Published On: October 31, 2022
Friends, as I prepared to sit in quiet candlelight and write a prayer for the victims of the Halloween stampede in Seoul, South Korea, news broke of another tragedy in Morbi, India.
What is there to say in the face of what seems like senseless and unnecessary tragedies like these? It reminds me of trying to reinforce what seemed like arbitrary safety rules with staff in my last ministry. I was known for saying (often, and sometimes impatiently), "It doesn't matter until the second it does."
Human safety and our infrastructure are like that. It can seem overly bureaucratic and overly cautious or risk-averse to prepare for the worst. But then we have 100,000 people in a narrow alley, or hundreds of people on a newly opened bridge that hasn't been inspected, and tragedy strikes.
Especially for members of The United Church of Canada who are of South Korean or South Asian descent, my heart is with you this week as you continue to worry about and pray for your communities. The whole church prays with you.