Like the Powwow dancers, each of us come equipped with unique expressions to contribute to a common purpose under "the big top."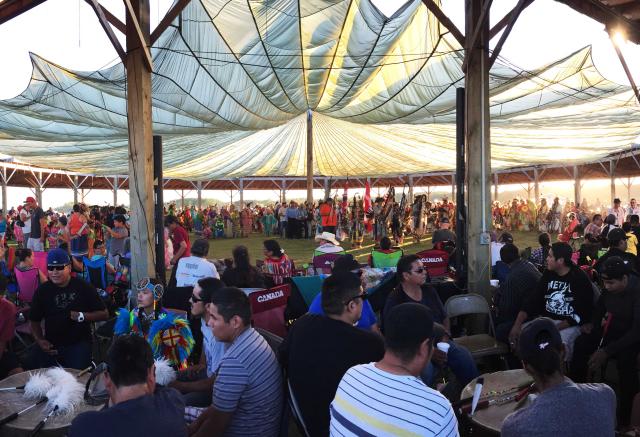 Credit: Maggie McLeod
Published On: June 12, 2017
I took these pictures last August while visiting my mother's relatives in the central part of Saskatchewan on the Muskoday First Nation. They capture some of the 825 dancers that participated in the 25th annual traditional Powwow.
I was sitting beside my aunt, my mother's youngest sister, during the afternoon Grand Entry when she remarked, "There is no such thing as too much colour when you are Indigenous." I have cherished my aunt's words, since. They have provoked me to look more deeply into the richness of what I see and experience. And perhaps her words will help you to lift up a spirit of celebration as our church, and this country, mark National Aboriginal Day.
The Powwow offers an experience of abundance—feathers and beads, shells and porcupine quills, fringes and bustles—as a celebration of diverse gifts and expressions. The Powwow has layers of colours and sounds, textures and teachings, emotions and purpose. At times it can appear disorderly: chicken dancers, fancy shawl dancers, grass dancers, hoop dancers, traditional dancers, and jingle dancers, sometimes moving off in different directions. Each dance has history and purpose; each dancer has a story of how they come to embrace that particular dance and regalia.
There is one thing that brings everyone into common focus. It is the drum—the heartbeat of Mother Earth. The dancers will say how they feel that heartbeat as their feet touch the sacred earth.
During the Grand Entry, local leaders, dignitaries, flag carriers, Elders, veterans, and dancers all make their way into the dance area. The drummers drum and sing until all the dancers have entered the big top.
A lot goes on under the big top. And there is a lot is going on in our church, and in this country, right now. The United Church of Canada holds the identity it does because a variety of communities gather across the land to share common faith, concerns, and joys. Like the dancers, we each come equipped with unique expressions to contribute to a common purpose. As the apostle Paul told us, "just as the body is one and has many members, so it is with Christ" (1 Corinthians 12:12).
There's vulnerability in coming together. These dancers are not competing with one another; they enter into communal space to offer themselves. Coming into the big top brings a deep sense of humility and gratitude. Even as you are offering yourself, you are also receiving abundance.
Coming together in the church in all our diversity, we can hold space for all to share and to sing, and maybe even dance. We can be sure that as we answer that call, we will encounter difference in ways that tug us to explore outside of the norms and certainty of society and even of our own United Church culture. Dancing with diversity is a beautiful thing—it challenges us, informs us, and enables our growth.
I heard that too when my aunt expressed her belief that we can never have too much colour. The effect is stunning beauty and strength. The big top is a place for all to gather, drummers, dancers, spectators of all ages. It is a place for ritual, ceremony, and prayer, and for affirmation—where people share gifts and grow closer to Creator and to one another.
At this time, as we celebrate First Nations, Inuit, and Métis peoples' values, customs, languages, and culture on National Aboriginal Day, may our dance keep us connected to God's heartbeat.
—Maggie McLeod is Executive Minister, Aboriginal Ministries and Indigenous Justice for The United Church of Canada