Rev. MiYeon Kim and Rev. Leigh Sinclair reflect on a seminar which looked at theology through the lens of Korean church members.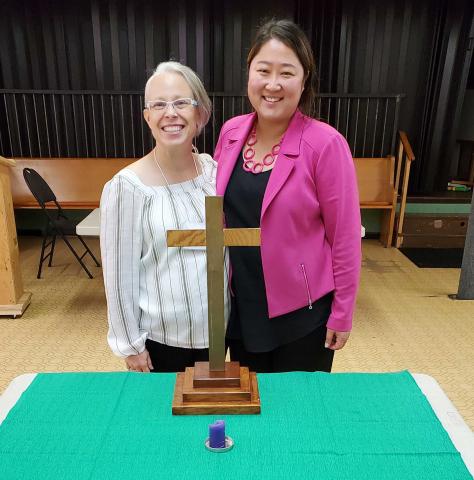 Rev. Leigh Sinclair (left) and Rev. MiYeon Kim (right).
Credit: Courtesy of Intercultural Adventures
Published On: November 14, 2022
On October 17-19, 2022, 28 United Church clergy and lay folks gathered at Edmonton Korean United Church for "Intercultural Adventure," an event which brings people together from across Canada to consider United Church theology, focusing on Korean United Church members' wisdom. This was the fifth Intercultural Adventures event to be held, since the event began in 2015.
We engaged the Holy Spirit to learn, discuss, play, and sing — along with lots of laughter, two languages, and delicious food. We also had a serious consideration of how Korean theologians (past and present) imagine and listen to the Holy Spirit, and pondered how the Spirit is expressed and lived out in Christian life here in Canada. After speaking of the broad strokes of the Holy Spirit in Hebrew scriptures, Jesus Christ, and Korean history, we focused on the exploration of some practical realities of the Holy Spirit in the world, The United Church of Canada, and in one pastoral charge in Ontario.
Rev. Leigh Sinclair writes, as one of the guest speakers, "I felt honoured to be among great theologians and leaders as they took great care to translate my words, and translate their own words, to help bridge our understandings. I felt in awe of a trinity of the experience: thought, playfulness, and worship were all engaged deeply."
After attending Intercultural Adventures, the Rev. MiYeon Kim shared a reflection on the experience.
"I am okay," she said. "Even though I couldn't visit my home county for three years, and had to delay several gatherings with other Korean ministers due to the pandemic, I thought I had been doing okay.
"However, participating in the Intercultural Adventures seminar, I realized that I actually had not been okay. I felt my heart was comforted and revitalized while learning, joining the worship service in my mother tongue, sharing fellowship with other Korean colleagues who were scattered across the country serving various congregations of The United Church of Canada, and enjoying Korean meals together.
"Nonetheless, what I was most grateful for was time to reflect upon my experience of the Holy Spirit in my life; Spirit came in various ways during the pandemic.
"The theme and goal of this seminar was articulating our common understanding of the Holy Spirit as Korean-Canadians within The United Church of Canada, and when I read the following description of the Holy Spirit, an 'Aha!' moment came to me. 
"The Holy Spirit is the giver. It is the source of life, and it gives gifts like love, hope, insight, patience, courage, technical abilities, and perseverance, that sustain and enhance life…. The gift of the Holy Spirit as peace comes from the risen Christ. But it can make itself present to us through the words and actions of others, or through the beauty of nature. To paraphrase Karl Barth, God can speak to us through Russian communism, a flute concerto, a blossoming shrub, or a dead dog.
"During the pandemic, the Holy Spirit was with me.
"In Lethbridge, Alberta, where I live, we have an interesting geographical feature called coulees, which resembles hills called "oreum" on Korea's Jeju Island, a beautiful volcanic island off the south coast of Korea. During the pandemic, I often walked along the coulees in the morning or evening, thinking of my beloved homeland. I used to look at the majestic figure of a hawk flying alone high in the sky.
"In the small town where I serve in ministry, I became friends with a Chinese-Canadian woman. She often invited me to her house for lunch, I think it was at least once or twice a week. Because East Asian cuisine has many similarities, I really enjoyed her cooking, and she was so pleased to find a person who also enjoyed her food. Who doesn't like pork feet?!
"Through the Intercultural Adventure seminar, I was grateful to be able to reflect upon these encounters: in the beauty of nature, and making a new friend. Perhaps these were actually the work of the Holy Spirit who wanted to comfort and energize a lonely immigrant minister?
"In this seminar, not only Koreans gathered, but other guests also participated: Rev. Catherine Christie (a former United Church mission co-worker with the Presbyterian Church of the Republic of Korea), Rev. Taylor Croissant, Rev. Leigh Sinclair, and Dr. Kathy Yamashita.
"Due to this, the lectures and questions of the seminar were conducted in both Korean and English. This required patience and consideration from everyone, but beyond that, it led us to a deeper inspiration and closer relationship."
Rev. Leigh Sinclair commented on the last day of the event, saying: "Thank you for inviting me and for the translation. I was able to have a special experience while attending this event for three days and two nights: A sense of unfamiliarity when I was in a group that has different culture and language, a feeling of always being a step late in understanding, awaiting the translation after everyone else has already laughed at a joke. I learned that these experiences are actually what you have had while serving in The United Church of Canada, and realized that we, White people, were not patient enough to invite you to our conversation."
The Intercultural Adventure seminar came to its climax as we received Christ's bread and cup in a service of Holy Communion. When we remembered Christ's love through his death and resurrection, we were able to feel unity that transcends our boundaries such as race, gender, age, language, and culture.
Intercultural Adventures was an experience in "Deep Spirituality," one of the key elements of the new United Church Call and Vision. At the next adventure in 2024, we will explore another one of the calls: "Bold Discipleship." Watch for it!
— Rev. MiYeon Kim is an ordained minister serving Fort Macleod-Granum Pastoral Charge in Chinook Winds Regional Council. Rev. Leigh Sinclair is an ordained minister serving Leduc Beaumont Pastoral Charge in Northern Spirit Regional Council.
The views contained within these blogs are personal and do not necessarily reflect those of The United Church of Canada.