As the United States sends asylum seekers back to danger, the world is watching.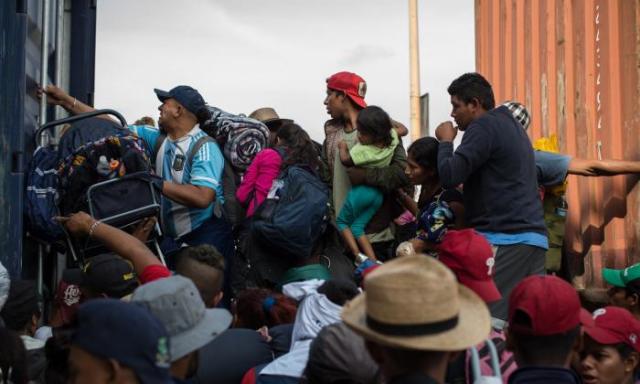 Credit: Sean Hawkey/ACT Alliance
Published On: December 5, 2019
Help Mission & Service partner ACT Alliance respond to the needs of asylum seekers in Central America, Mexico, and at the U.S. border. Your gifts will be used to increase the capacity of welcoming networks for humanitarian relief and bolster advocacy efforts to help ensure that the rights of asylum seekers are respected.
Eruptions of social protest in several Latin American countries in recent months draw attention to some of the factors that "push" people to decide to leave their homes in hope of a new life further north: rising fuel costs; cuts to public services like health, education and transit; droughts, forest fires and floods related to climate change; and gang violence.
At the same time, the journey has become more difficult.
In early August 2019, the United Church launched an appeal for support for Mission & Service partner ACT Alliance's (ACT's) work with people on the move towards the U.S.-Mexico border. At that time, a major problem was how to support people in shelters on both sides of that border. Now, after a combination of threats and bribes, the United States has forced many asylum seekers to wait in Mexico and Mexico is now deporting thousands of people back to their countries of origin. The United States, meanwhile, has "safe-third country" deals with El Salvador, Guatemala and Honduras—meaning that people seeking asylum from other places must make their claims first in those countries.
I checked in with Carlos Rauda, ACT's San Salvador-based Latin America/Caribbean regional representative.
"People have not given up on migrating," he says. "They are now using a combination of caravan and the usual invisible, isolated, historical ways to leave, due to situations of poverty, lack of employment, violence and insecurity prevailing in these countries."
About 300 people continue to leave Honduras every day. Often they travel in caravans, knowing that there is safety in numbers. But the journey has to be more clandestine.
Meanwhile, the numbers of deportations to Honduras continue to increase. The United States sends about two planeloads every day, and Mexico sends about eight busloads. Rauda says the Honduran government has no plan for their re-integration.
On top of that problem, a new deal with the Trump administration means that Honduras will house about 26,000 asylum seekers each year. Among them are Cubans, Nicaraguans, Haitians, and Venezuelans, as well as people from various countries in Africa. Again, Rauda says, the government has no comprehensive plan. Most of them will stay in San Pedro Sula, a city considered one of the most dangerous in the world due to its high levels of criminality and insecurity.
ACT Alliance and its members are adjusting their plans to respond to these evolving situations. In El Salvador, says Rauda, they are working with the government to strengthen an "integral reception system, providing some psychosocial support, hygiene welcome kits, and some support with clothes and food. One of the local partners in San Pedro Sula has set up a reception system in the bus station to provide a hot meal, some cash, and shelter as needed for families who may have missed a bus connection.
The United States' "safe third country" agreements with El Salvador, Guatemala, and Honduras are modelled on the one the U.S. has with Canada—a deal long criticized by the United Church and other refugee advocates.
But the three Central American countries (frequently referred to together as the "Northern Triangle") are among the most dangerous places on the planet. El Salvador has the highest homicide rate in the world, while Honduras is fifth and Guatemala is 16th (according to the United Nations Office on Drugs and Crime). They also suffer from high levels of corruption and high rates of violence against women and LGBTQ people. (Mexico, where asylum seekers who do reach the border are forced to wait for U.S. refugee hearings, is 19th on that list.)
Worse, these deals make a mockery of 70 years of international law that protects refugees—the laws developed after Canada and many countries refused asylum to Jews and others fleeing Nazi Germany. Stephanie Schwartz of the University of Southern California's Department of Political Science and International Relations warns that the world is watching. "If the United States can send asylum seekers back into danger, why can't other countries do the same?"
The Trump administration's approach may eventually be found to be illegal. But the U.S. Supreme Court recently allowed the government to continue its practice until a final ruling is made. In the meantime, lives are at risk—and, as Schwartz puts it, this practice is pulling at "the one thread that could unravel the asylum system as we know it."
—Jim Hodgson is the United Church's program coordinator for partnerships in Latin America and the Caribbean.