General Secretary Nora Sanders writes that we might find our faith deepening as we experience church in new ways during the COVID-19 crisis.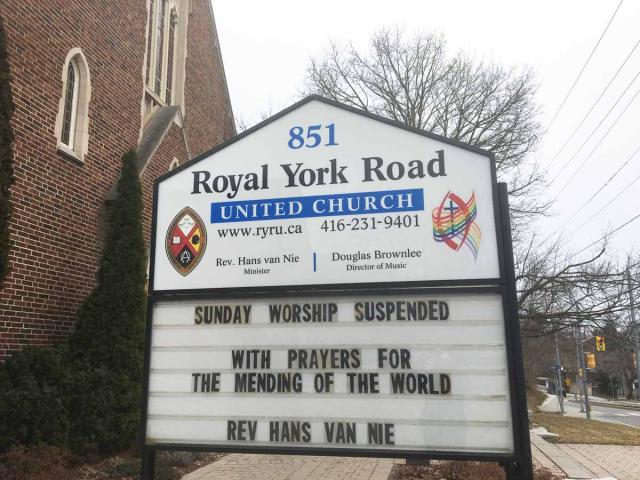 Credit: Nora Sanders
Published On: March 23, 2020
How are you doing? Things are changing quickly, aren't they? We are living in times like none of us have ever known. And doesn't it all feel as though it has happened very, very fast?

We closed the General Council Office on Monday, March 16, and regional council offices across the country have done the same. Previously, we had moved to stop all international travel for staff, and then to stop all air travel and travel between regions. We are amazingly functional because of a lot of hard work by IT staff who have set up the systems we need to work from laptops at home. Service may not be quite as usual, but we are doing our best to ensure that the essentials are always covered, and that we keep fully in communication.

A week ago churches were still wondering whether to hold worship on Sunday; some did, some didn't. Now it is pretty clear that no churches should gather for worship.

Our Prime Minister, who is in self isolation himself because his wife has contracted COVID-19, has asked Canadians to make choices to help those around them, and to, as much as possible, stay home and work remotely. Each day there are new updates of closures and restrictions, along with announcements of government support to help people through this time.

It is temporary, but no one really knows how long it will last. So how shall we use this time?
We can try new things. Some of us don't like to try anything new unless we have to. Right now we have to, so let's see what we can discover. Whether you create your own or take part in one of the many opportunities available online, take the opportunity to experience virtual worship, or share in an online prayer or study group. It is heartening to 
see how many options
 are springing up. I found myself very moved by the virtual worship from my own congregation on Sunday.
My cousin wondered if all this might make people switch to virtual church instead of going back to church when the restrictions are lifted. I am not so worried about that. I think that in experiencing church in new ways we might find ways to deepen or reinvigorate our faith, and we will be all the more grateful for worship in community in person when we can do that again.
We can do things to make this a special time in our own households. Children, and actually all of us are going to remember these days forever. Special routines, time together in conversation, or with crafts, games, and yes, movies can be precious. How often have we lamented not having enough time at home or with family? God has blessed us with this opportunity.
We can think of those with needs greater than our own at this time. I know that many of you have already been in touch with a neighbour who may need groceries delivered, or have made an extra donation to a community ministry that is struggling to meet the needs of some of the most vulnerable, or have reached out in other ways.
It is a good time to call or message people in your extended family or wider circle of friends. Keeping connected at this time keeps all of our spirits up. Social media can be a wonderful way to share signs of hope and encouragement (or ridiculous cartoons) during times when we are not able to be together in person.
And this is also a time for prayer. We can talk to God about our worries. We can pray for our own families. We can pray for those those whose needs are greatest in Canada and around the world. We can pray for medical professionals and all who serve vulnerable populations. We can pray for our Prime Minister and leaders at all levels of government. We can pray for our Moderator and all ministers and leaders in our church. Prayers matter.
I would love to hear from you about how you are doing, and what you are doing during this unique time.
In these strange times, as in all times, we remember that God is with us, we are not alone. Thanks be to God.                                                                               

Blessings,

Nora
— Nora Sanders is General Secretary of The United Church of Canada. 
This message was originally sent to subscribers to the General Secretary's letter, "Note from Nora." Subscribe here.