For International Day for the Elimination of Racial Discrimination, Adele Halliday shares difficult experiences of racism her child faces.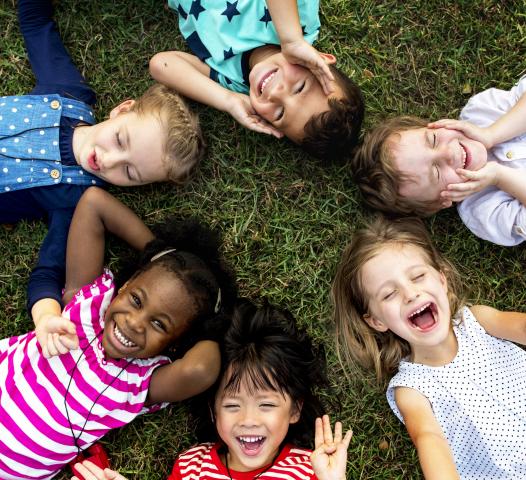 Children playing together (this is a stock photo which does not show author's child).
Credit: © Rawpixel / iStock
Published On: March 15, 2022
The name calling started when she was about three years old.
They were racial slurs, and names, and taunts. My child, my own flesh and blood, was being ostracized for having Black skin. The people slinging the insults? Other children on the playground.
While the particular incidents of racial degradation were happening, my spouse or I were always near by and could see our child playing, but we couldn't always hear the detailed conversations among the children. So, it wasn't always possible to offer interventions in the moment.
But, inevitably, the questions would come up later on, when she thought about what they had really said.
Her questions were something like: Is there something wrong with my skin colour? Is my skin colour ugly? Is there something wrong with me? Did I do something wrong, as to why other kids are calling me names?
She may not have necessarily always understood the particular terms that they used, but she knew that it was related to her Blackness and her racial identity. And this deeply wounded her tender heart.
My spouse and I are very intentional about teaching our child about anti-racism and diversity. We read a wide range of books that honour diversity, we often talk with her in age appropriate ways about equity and justice, we reinforce positive messages about cultural identity, we show her positive movies with educational messages, and we surround her with role models from a range of cultural backgrounds. We do everything that we can on an ongoing basis to bring her up with a strong sense of cultural identity and pride, and knowing that she is deeply cared and loved for, and that she is created in the image of God.
And yet, despite all of our intentional modelling, teaching, and proactive actions, our child is still already developing internalized racism and inferior notions of herself.
The children who were taunting her were offering explicit and overt notions of racism, but they were children! They had not even started primary school! And yet, the children had already learned behaviour (at home, or elsewhere in society) that Whiteness is superior. And, they had the audacity to vocalize that to an innocent little child.
Children as young as three, of course, already naturally notice differences, including racial differences. But, they are far too young to understand assigning negative values to those racial differences—unless that is taught to them. Whether that is taught explicitly or implicitly, those messages are being learned.
This is the scourge of White supremacy—that despite all of our ongoing and intentional efforts as Black parents, it can be undone in the playground or the school yard.
For me, this is the reality of systemic racism. Yes, my child experienced an overt example of name calling and taunting. But, it also speaks to the reality of the subtle racial messages that continue to reinforce not just negative notions of oneself (particular for racialized people of colour), but also behaviours that are seen to be okay by White people. The arrogance of such young children to insult another child on the basis on their racial identity is shocking.
For me, the International Day for the Elimination of Racial Discrimination on March 21 is a day to continue to focus on challenging the realities of systemic racism and White supremacist culture.
My child is five now, and it is a continuous effort about teaching about diversity and unlearning internalized racism.
This is in part why I am so deeply committed to dismantling racism in all its forms—racism is damaging and destructive for all people in society. It reinforces negative notions for people of colour. I live it in a particular way because of my own racial identity, as a Black person who has lived with racial injustice my entire life.
The systemic nature of racism is something that cannot be ignored. It has to be a continuous effort.
I have heard other, mostly White, parents talk say that they do not want to talk about race with their children because it is too divisive. But for myself, as a Black parent, I cannot avoid talking about race. (I can only hope that other parents are also doing their best to teach their kids how to be actively anti-racist.)
Race is one aspect of her identity that my child is reminded of on a regular basis by other children that she interacts with. And as a fiercely loving parent, I have a responsibility to prepare her for how to live in this world as a person with Black body. I can teach her that there is absolutely nothing wrong with her. That she is Black and beautiful. That she is a beloved child of God. And, that there are power imbalances in society that will make it more difficult for her to succeed and thrive, that there are inequitable systems in society that will conspire to make her think that she is less than who she is, and that she will have to work hard to overcome them. This is a societal issue that calls us all to respond, in order to build better places of belonging for people of all racial identities.
In the meantime, I remain deeply committed to the work of racial justice and the broader work of equity as a person of faith. It is my continued prayer that many others will join in the effort to continuing to dismantle racism.
This effort to overcome racism is a continuous effort. And I am committed to this work for the long haul.
I hope that you will be too.
— Adele Halliday is the Anti-Racism and Equity Lead staff for the General Council Office of The United Church of Canada. She and her spouse parent two young children in Toronto, aged two and five. The views expressed in this article are Adele's personal views.
March 21 is the International Day for the Elimination of Racial Discrimination. Find out more about the day and see the worship and study resources.
The views contained within these blogs are personal and do not necessarily reflect those of The United Church of Canada.