Let's make hope visible across the country.
Description
Moderator Rev. Dr. Carmen Lansdowne encourages communities of faith to celebrate Together for the Love of Creation Earth Week from April 16-23, 2023.
Published On: March 22, 2023
"The challenges are big and the stakes are high. Change takes all of us. Earth Week is April 16‒23. Let's show up For the Love of Creation." —Moderator Carmen Lansdowne
During Earth Week 2023, The United Church of Canada is joining with numerous denominations and faith-based organizations under one banner, Together for the Love of Creation.
Communities of faith, networks, and regions are invited to initiate and participate in climate justice events during the week of April 16‒23 to pray, learn, and act for the love of creation.
Now is the time to act. As UN Secretary General António Guterres urged with the release of the UN Intergovernmental Panel on Climate Change (IPCC) report, "Our world needs climate action on all fronts—everything, everywhere, all at once." 
This is a tremendous opportunity for the church to lift up and strengthen the ways that we are putting our house in order by reducing our carbon footprint, raising our spirited voices through advocacy efforts, connecting with the earth, responding to climate impacts, and challenging ourselves to be deep, bold, and daring. Hold an event to share these initiatives with others. Learn from and collaborate with our friends in faith. Attend an event already being organized. Be a catalyst for climate justice.
Mark Earth Week in a way that reflects and challenges your community.
Some ideas to get you started
Additional resources to inspire your planning and to register your event are on the For the Love of Creation website.
All events will be posted on an interactive map. The first three United Church of Canada events posted provide a taste of the creativity and variety ahead: A Resurrect Your Bike event at Ste. Genny's, a Grounding through Grief Earth retreat at Five Oaks Retreat Centre, and an Earth Sunday Service at Little Current United Church.
Register and view events: Together for the Love of Creation Earth Week registration and map.
We encourage you to share your event on social media using hashtags #FLCPrayLearnAct #UCCan. Contact  for support.
Change takes all of us. Each action brings hope. Let's make hope visible across the country.
Background
Together for the Love of Creation Earth Week 2023 is co-endorsed by the Anglican Church of Canada, Faith and the Common Good, Mouvement Laudato Si Movement-Canada, the Evangelical Lutheran Church in Canada, the Canadian Yearly Meeting of the Society of Friends (Quakers), the Canadian Religious Conference, The United Church of Canada, KAIROS, The Primate's World Relief and Development Fund, the Grey Sisters, The Presbyterian Church in Canada, the Sisters of Our Lady of the Missions, Development and Peace – Caritas Canada, Canadian Voice of Women for Peace, Citizens for Public Justice, the Sisters of St. Joseph of Toronto, and the Canadian Council of Churches.
On Earth Day in 2020, faith bodies and faith-based organizations in Canada came together to launch For the Love of Creation. This national initiative, of which The United Church of Canada is an active member, is a unified banner to mobilize education, reflection, action, and advocacy for climate justice. It is faith-based and theologically grounded, and centres Indigenous self-determination and youth empowerment. For the United Church, working together through the For the Love of Creation enables effective ecumenical collaboration at the local and national levels.
The United Church of Canada climate effort has local, regional, national, and global expressions in the areas of Putting Our House in Order, Raising Our Spirited Voices, Connecting with the Earth, and Responding to Climate Impacts. Read more at Climate Change.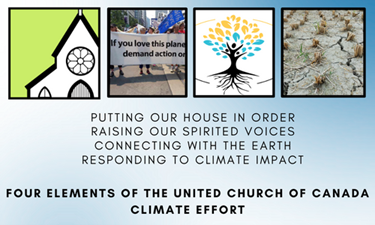 Credit: Faithful Footprints, Lucy Cummings, Md. Hasanuzzaman Himel on Unsplash, and The United Church of Canada