"We are one church in this global world"
Primary Media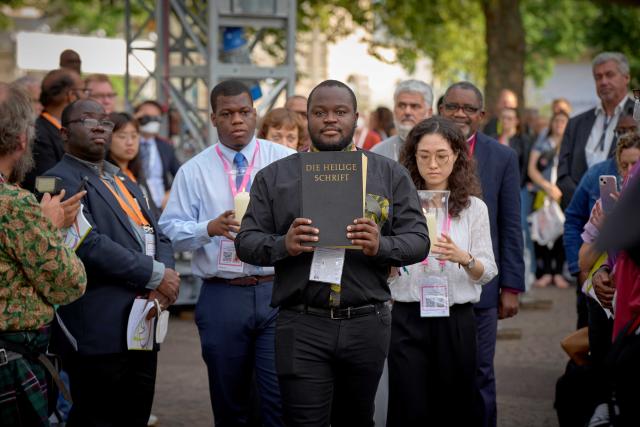 Participants carry the Bible into the opening ceremonies of the 11th Assembly of the World Council of Churches.
Credit: Paul Jeffrey/WCC
Published On: September 19, 2022
Body
Unity, justice, and peace for all is a big vision. And it's one that more than 4,000 participants from over 120 countries joined together in September to help realize.
Fifteen United Church delegates participated in the World Council of Churches (WCC) Assembly in Karlsruhe, Germany—the largest ecumenical gathering in the world.
The denomination has a long history with the WCC. The United Church has been there since its inception in 1948, and your generosity through Mission & Service (and its antecedents) has supported the work ever since.
It's critical we are there.
Since its creation, the World Council of Churches has supported and inspired church participation in struggles for justice, peace, and creation. For example, in the late 60s the WCC Programme to Combat Racism led to taking a bold stand in the struggle against apartheid in South Africa. Churches addressed the role of structural injustice in the economic and financial system in the service of apartheid through boycotting goods and calling for divestment from banks and enterprises collaborating with the apartheid system.
The WCC has used its collective voice in other areas of justice as well, including supporting efforts to bring an end to conflict in Sudan, the reunification of North and South Korea, and the defence of human rights in Latin America during decades of brutal military dictatorships.
Today, the WCC is advocating on key issues like nuclear disarmament, stateless peoples, children's rights, and racial justice at various levels of national and international governance. Since the United Nations Framework Convention on Climate Change was adopted in 1992, the WCC has been present at all UN climate change conferences.
At the September 2022 meeting, Bishop Dr. Heinrich Bedford-Strohm of the Evangelical Lutheran Church in Bavaria was elected as the new moderator of the WCC. In his speech, he encouraged churches to listen to the spirit calling them to unity.
"The church can never be provincial or national. The church is always universal. The church can only witness Jesus Christ when we make this visible: that we are one church in this global world," he said. "Where people are suffering, where people cry out for justice, the church must be an agent to give them a voice and to make visible how the church can be the salt of the earth and the light of the world."
Thank you for supporting worldwide ecumenical efforts to build a better world through Mission & Service.