The oldest Methodist building―and one of the oldest churches―in Canada
Primary Media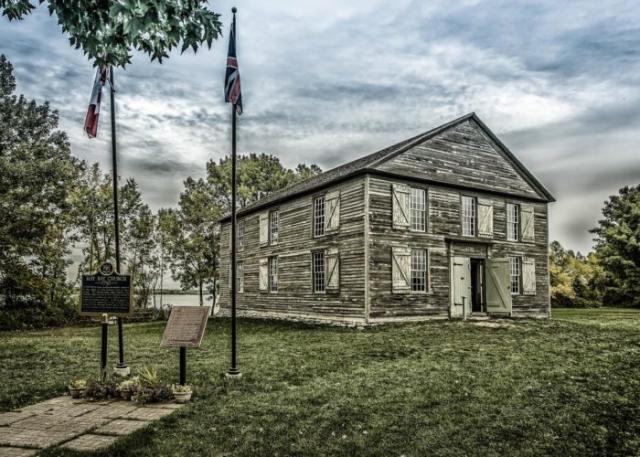 Credit: Old Hay Bay Church
Published On: July 19, 2022
Body
Since Jesus first walked on this earth, Christians have been spiritually drawn to make pilgrimages to places connected to his birth, life, crucifixion, resurrection, and legacy. Today, pilgrimage hot spots include Oberammergau in Germany, Lourdes and Taizé in France, and of course the Holy Land.
Here in Canada, thousands of Christian pilgrims make their way to the small town of Napanee, ON, to visit Old Hay Bay Church each year. The last Sunday in August is the highlight of the season, when the church hosts its annual pilgrimage service.
What's the attraction? It's a mix of the history, scenery, spiritual connection, and community.
An unassuming building clad with greyed wood siding and wide doors that open to a plain but sturdy sanctuary, Old Hay Bay Church was originally built on the shoreline of Hay Bay, which connects to the Bay of Quinte, in 1792. It is the oldest Methodist building―and one of the oldest churches―in Canada. Now, it belongs to The United Church of Canada, and your generosity through Mission & Service helps ensure that it will continue to be a place of pilgrimage for years to come.
Elaine Farley, chair of the Board of Trustees and one of the church's custodians, explains that the building, originally referred to as the "meeting house," was the centre of the rapid growth of Methodism and hosted the first camp meeting in 1805. "Methodism grew into the largest Protestant group in Canada and was the largest communion that became the United Church in 1925," she says. "The Founders reflect any United Church congregation today. They came from various countries of origin and had a wide variety of skills and knowledge, but together they made a strong voice, speaking of God, their community, and their future."
Farley warns that she could enthusiastically "go on and on" about why the small church in rural Ontario is so important, but she sums it up with three short sentences: "Old Hay Bay Church has earned its place in the history of Methodism and The United Church of Canada. It is not just a building but also a sacred place of our ancestors, as well as a pilgrimage place for us and our descendants. It has a special place in peoples' hearts."
Thank you for helping to preserve important historical, theological, and pilgrimage sites through your Mission & Service gifts.