Supporting Ukrainian refugees through Gifts with Vision
Primary Media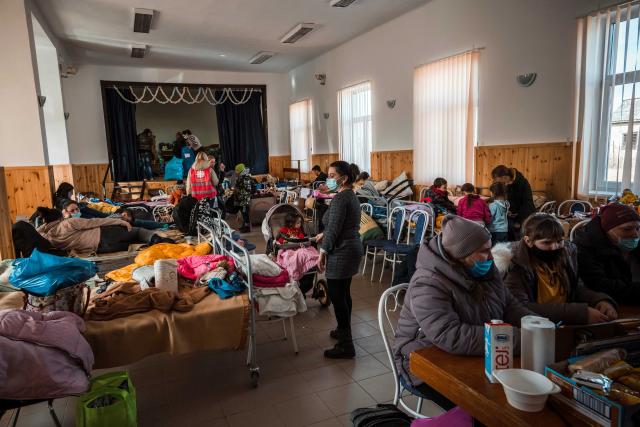 At the refugee point in Barabás, a small Hungarian village on the border of Ukraine, ACT Alliance member Hungarian Interchurch Aid offers food, drinks, and hygiene items for people fleeing the Ukraine war.
Credit: Antii Yrjönen/FCA
Published On: April 19, 2022
Body
The scenes are heartbreaking: Families confined to underground subway stations. Children standing alone in endless lines at borders. Mothers printing their names and contact information in permanent marker on their children's backs lest they get separated―or worse.
Since the war started, over 7.9 million refugees had fled Ukraine, 90 percent of them women and children.
Gifts with Vision―the United Church's giving catalogue―has just unveiled its latest gifts to help them.
A gift of $25 will provide families fleeing from Ukraine with a hygiene package containing items like toothpaste, laundry detergent, and disinfectant. A gift of $38 will provide one food basket with staples such as cooking oil, buckwheat, canned fish, dried peas, and condensed milk; and $40 will provide one hygiene package plus a supply of incontinence products.
"What really strikes me about the food basket is the attention to detail. It has chocolate and cookies in it. That speaks volumes about going beyond the survival basics and trying to build morale," says Kathie Murphy, the United Church's Annual Giving Associate. "The hygiene basket is thoughtful, too. It's not just about personal hygiene―it also includes laundry and cleaning products. And remembering incontinence materials for those who need them is all about helping people maintain their dignity."
Sarah Charters, director of the United Church's Philanthropy Unit, is glad the new gifts have been added in time for Christian Family Sunday. "It's a day the church sets aside to reflect on the importance of families. I hope people will be inspired this year to take action for families fleeing Ukraine," says Charters. "We can't end the war in Ukraine, but we can do something to help."
You can give a gift of food and hygiene through Gifts with Vision or by calling 1-844-715-7969. Thank you for your generous support.