Your generosity helps students around the world pursue their dreams.
Primary Media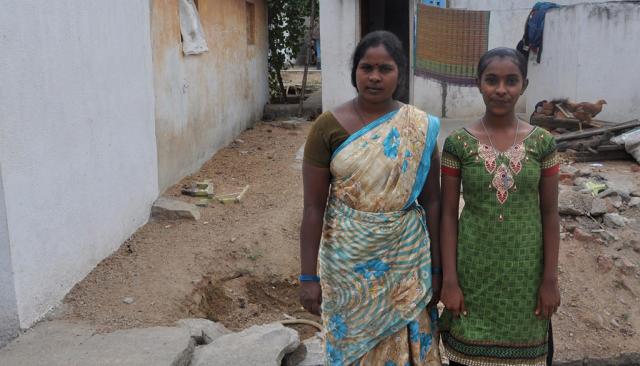 Tamilarasi and her mother outside their home.
Credit: Human Rights Advocacy and Research Foundation
Published On: December 1, 2021
Body
Tamilarasi is a very bright 15-year-old from a small village in Tamil Nadu, South India. She is lucky to be able to go to school. In her village, girls her age are often pulled out of school to be married.
Life isn't easy. Tamilarasi's father recently died in an accident and she is living with her mother and two other siblings. As a widow with no inheritance rights, Tamilarasi's mother may lose their family home when her brother marries. The teenager worries about where she and her family will live in the future.
"Our life has become a question mark now," she writes in a thank-you letter to the Human Rights Advocacy and Research Foundation (HRF), our Mission & Service partner. "Questions haunt me and sometimes I'm unable to sleep," she says.
When a representative from HRF visited Tamilarasi's school, she gave a presentation on children's rights to the students at a school assembly. At the assembly, Tamilarasi and other students were encouraged to stay in school and they received a backpack. "The schoolbag was of good quality and spacious enough to carry all my books and notebooks," she wrote. "I felt very happy."
Offering school supplies to students makes it possible for our Mission & Service partners to help young people like Tamilarasi complete their education and stay in school.
What's more, with support from Gifts with Vision, the United Church's gift catalogue, HRF provided backpacks stocked with school supplies to almost 500 Tamil Nadu children who live in poverty. Without those supplies, the children would not be able to attend or participate in classes.
Your generosity helps students around the world pursue their dreams.
One day, Tamilarasi wants to become a doctor. "I want to protect children like myself from diseases," she explained. "I know I can't afford to while away my time!"
Thank you for making a difference by providing life-transforming advocacy and school supplies. Your support truly does help change lives.
Downloads