The United Church of Canada adds its voice to global calls for a ceasefire and humanitarian aid.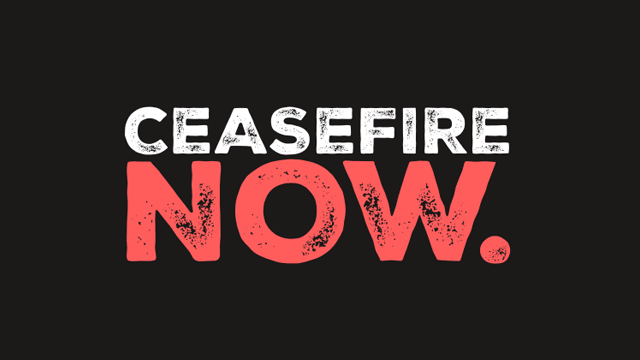 Credit: Crisis Action
Published On: October 23, 2023
The United Church participated in two press conferences in Ottawa advocating for peace this past week. To watch the recordings, please go to the CPAC website and search for:
Pan-Canadian Coalition Calls for Ceasefire in Gaza (represented by Rev. Éric Hébert-Daly, Regional Executive Minister for Eastern Ontario and Quebec)
Multifaith Coalition Urges Ceasefire in Israel-Hamas War (represented by Rev. Mary Royal-Duczek, minister at Almonte United Church).
As violence spirals in Palestine and Israel, and beyond, we have joined global voices in urging a ceasefire, for hostages to be released, and for the humanitarian crisis to be addressed.
The World Council of Churches (WCC), in consultation with heads of churches and representatives of Palestinian Christian organizations within the Jerusalem Liaison Office Advisory Group, makes an urgent call for an international investigation led by the United Nations into the numerous war crimes committed against civilians during the ongoing conflict. #WCC #UCCan #PrayForPeace
The World Council of Churches joined a day of prayer and fasting on October 17, hosted by the Patriarchs and Heads of the Churches in Jerusalem. People of The United Church of Canada and people of goodwill united in prayers for peace, for aid to those suffering, and for those who have lost loved ones. #PrayForPeace #WCC
KAIROS Canada and its member churches and agencies, including Anglican Church of Canada, Evangelical Lutheran Church in Canada, Mennonite Central Committee of Canada, The Presbyterian Church in Canada, and The United Church of Canada, condemn the current violence against Israeli and Palestinian civilians, in Israel, Gaza, the occupied West Bank, and East Jerusalem, and urge Canada to do everything in its power to support an immediate ceasefire and a negotiated solution.
In response to the bombing of the Anglican Al-Ahli Hospital in Gaza City, which killed hundreds, representatives of the Ontario Federation of Labour, as well as leading pan-Canadian labour, faith, Arab, Jewish, and civil society organizations, called on the Government of Canada to call for an immediate ceasefire of all hostilities in Israel-Palestine. There is an additional call for an end to the blockade of Gaza and for the restoration of humanitarian aid and access to the basic necessities of life. #ceasefirenow #cdnpoli
The United Church of Canada has joined more than 460 signatories on Global Justice Now to urge all Heads of State, the UN Security Council, and actors on the ground to prioritize the preservation of human life above all else. #CeasefireNow