Please hold in prayer those being targeted.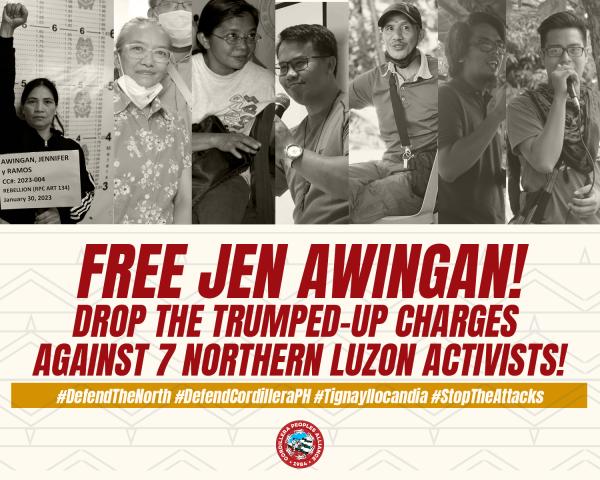 Credit: Cordillera Peoples Alliance Facebook
Published On: February 2, 2023
On January 24, 2023, a warrant of arrest was issued for five human rights defenders associated with the Cordillera Peoples Alliance in the Philippines, long-time partner of The United Church of Canada, and two other respected human rights defenders.
The United Church has partnered and worked with the Cordillera Peoples Alliance for over 30 years. Since 1984, the CPA has built a credible record of accomplishment of advancing Indigenous people's rights and self-determination, and promoting human rights, genuine peace, and fundamental democratic rights.
The case of "rebellion" filed against these activists is in reference to an incident on October 27, 2022, in Brgy. Gacab, Malibcong, Abra, where four army soldiers were attacked. Jen Awingan, Windel Bolinget, Steve Tauli, Lulu Gimenez, Sarah Alikes, Niño Oconer, and Florence Kang were identified as perpetrators with no clear evidence and with no due process. Jen Awingan was arrested on January 30, 2023. There was no notice of a pending case, preliminary investigation, or subpoena. Family, colleagues, and friends can attest to the whereabouts of the named individuals at the time of the incident being charged against them.
This case is one of many in the Philippines where systematic state attacks criminalize the legitimate work of human rights defenders.
The United Church of Canada joins in a global call to free Jen Awingan, have the trumped-up charges against the seven activists dropped, and have the government in the Philippines be held accountable for their human rights violations. We join in calling that the Supreme Court in the Philippines address these instances of warrant issuance with no due process for the respondents.
Global partnership staff of The United Church of Canada are in contact with CPA as we accompany their efforts to have the unjust charges dropped for their colleagues and community members. We continue to advocate for their release with officials. Please hold in prayer those being targeted at this time. Follow the Cordillera Peoples Alliance on Facebook.
Show your support by signing this petition and learn more about the case in the briefer that follows.
Downloads