Overcoming religious-based homophobia and transphobia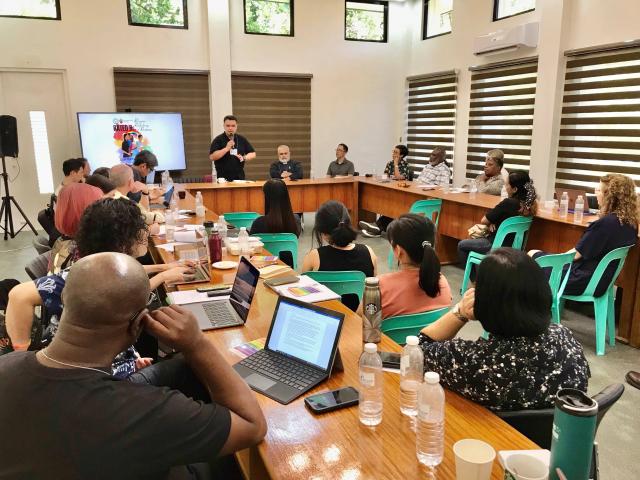 Participants gathered at Union Theological Seminary, Philippines
Credit: Jim Hodgson
Published On: March 23, 2023
"This space is a reminder that we have a God that is committed to us. A God who continues to affirm that the work of love and healing is not done in the world. We have a God that continues to invite us into the wideness of God's love. It is in this love that we act together in great boldness" —Rev. Michael Blair
"Rated R"—the cheeky title of a church consultation—brought 38 people together in Manila in February 2023 to share stories and plan new steps to overcome religious-based homophobia and transphobia.
Participants were LGBTQIA+ people and allies from The United Church of Canada and its partners in the Philippines, India, Japan, South Korea, Hong Kong, and Indonesia.
That "R" was not a movie classification. Organizers intended it to stand for "radical," and in the still-evolving church context of Asia where Christians are a minority in almost all countries, it was. One of the organizers, Lizette Tapia-Raquel of the Union Theological Seminary (UTS) in the Philippines, said: "We seek to radicalize our understanding of religion, to spark revolutions in our diverse contexts and communities toward the celebration of diversity, which has as a common symbol the rainbow."
This consultation follows the commitment of the United Church to support and accompany the efforts of global partners—churches, seminaries, ecumenical groups, and social movements—related to LGBTQIA+ rights, dignity, and full inclusion. The Manila consultation was the second regional consultation; the previous one was held with Latin American and Caribbean partners in Colombia in 2019. In anticipation of a third event to be held in Africa next year, two people from Zambia and Mozambique also attended. The regional events were preceded by a global consultation held on the shores of Lake Simcoe, Ontario, in 2017.
In Asia, national councils of churches in Philippines, India, and South Korea have opened space for LGBTQIA+ people to organize, and encouraged churches and seminaries to build relationships and bridges that will plant the seeds of change.
Recognizing that interpretations of Christianity have often denied life and dignity for LGBTQIA+ people, seminaries like UTS and the Jakarta Theological Seminary in Indonesia have adjusted training programs and courses to, in the words of Tapia-Raquel, "critique religion and reread our sacred texts, transform our structures and systems, and repent as institutions that have perpetuated exclusion."
Participants at the consultation also celebrated the life and witness of the Rev. Lim Borah, a South Korean leader in the struggle for LGBTQIA+ justice and inclusion and thus a target of religious extremists who called her a heretic. She was to have joined the consultation but died just two weeks earlier. The Rev. Lim's legacy of compassionate courage has rippled around the world.
The United Church is committed to reciprocal relationships and to spaces of mutual transformation. After attending the consultation, Michael Blair, General Secretary of The United Church of Canada, reflects, "There is something important about the methodology of how we have come together: we have come to connect, we have come to share our stories together. It is critical that as we move forward in this, we stay connected."
For more information, please contact  , Global Partnership Program Coordinator Southern Africa and South East Asia.
The consultation was supported by Mission & Service through the United Church Foundation's 2SLGBTQIA+ Global Solidarity Fund, and through the Union Theological Seminary, Philippines.