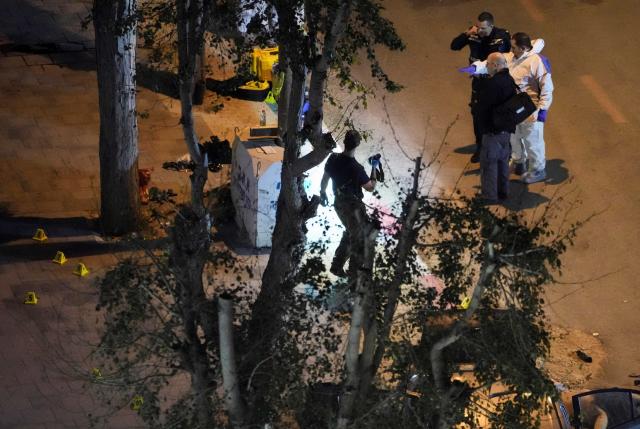 Israeli police inspect the scene of a shooting attack In Hadera, Israel, March 27, 2022.
Credit: AP Photo/Ariel Schalit
Published On: March 31, 2022
The United Church of Canada condemns the recent spate of extremist violent attacks against Israeli communities, three of which took place in the span of one week.
"The United Church expresses its deep condolences to the victims' families and communities, left to grieve the brutal killing of their loved ones," said the Right Rev. Dr. Richard Bott, Moderator of The United Church of Canada. "We condemn this violence unequivocally. We pray that those ultimately responsible are held accountable, and that these attacks do not result in further escalations of violence."
The statement from the Moderator echoes the sentiments of the World Council of Churches, expressing solidarity and condolences to those whose loved ones have been killed or injured. Mission and Service partners of The United Church of Canada work tirelessly, often under difficult conditions, toward the realization of a just and lasting peace in the Holy Land. The church reiterates its staunch commitment to accompanying Palestinian and Israeli partners in their efforts to put an end to the conditions that foster hatred, violence and extremism.
In this Lenten season, communities of faith are invited to reinvigorate prayers and efforts in support of a just and enduring peace for the peoples of the Holy Land.