Letter from General Secretary; Call to Action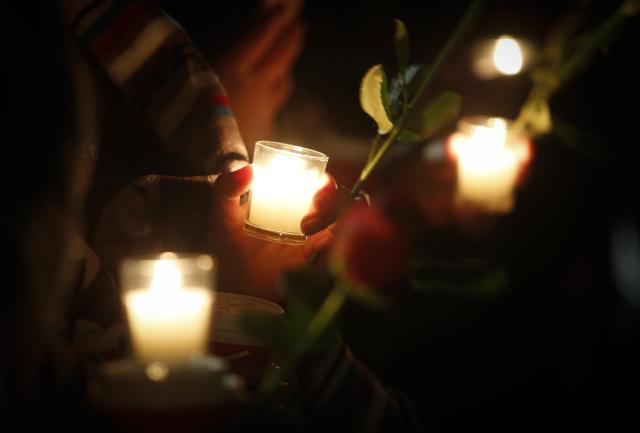 Family and friends at a vigil for Rebecca Contois, Morgan Harris, and Marcedes Myran on December 1, 2022.
Credit: THE CANADIAN PRESS/John Woods
Published On: December 15, 2022
The Rev. Michael Blair, General Secretary of The United Church of Canada, has written to Winnipeg Chief of Police Danny Smyth asking that he revisit his decision to not search the Prairie Green landfill for the remains of Morgan Harris and Marcedes Myran. They are among four Indigenous women recently identified as victims of a serial killer, more lives lost to Canada's national crisis of missing and murdered Indigenous women and girls.
Centering the voices of Indigenous families and communities who wish to see Moran, Marcedes, Rebecca Contois, and Mashkode Bizhiki'ikwe honoured and respected, the General Secretary noted that the church "believe[s] that everyone, created in the image of God, has a right to be treated with respect and protected from harm. This extends from life through death."
The Executive of Prairie-to-Pine Regional Council has also sent a letter to the police chief.
Communities of faith, ministries, and individuals across the country are invited to share the letter (available in the Downloads, below) and add their own voices to the call for a search. As you do so, please be aware of the trauma that these recent events continue to bring up for those who have been most closely affected.
Correspondence may be sent to:
Chief Danny Smyth
Winnipeg Police Services
P.O. Box 1680
Winnipeg MB
R3C 2Z7
WPS-CommunityRelations@winnipeg.ca
Please copy your letter to:
Mayor Scott Gillingham
City of Winnipeg Mayor's Office
510 Main Street
Winnipeg MB
R3B 1B9
mayor@winnipeg.ca 
Premier Heather Stefanson
204 Legislative Building
450 Broadway
Winnipeg MB
R3C 0V8
premier@leg.gov.mb.ca
Downloads