We reaffirm our commitment to working for justice and inclusion for all.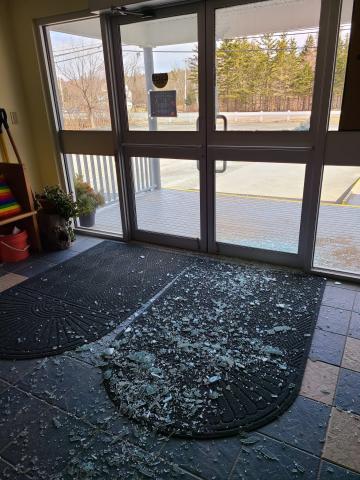 A stone was thrown through the door of St. Luke's.
Credit: St. Luke's United Church Facebook page
Published On: March 31, 2022
The United Church of Canada is saddened by two acts of vandalism that occurred this week at St. Luke's United Church in Upper Tantallon, Nova Scotia, and Scarboro United Church in Calgary, Alberta.
At St. Luke's, a Pride flag was torn down and a stone thrown through the glass door of the church building. In a letter to his congregation posted on Facebook, the Rev. Rick Gunn said, "We may never know what was going through this man's head or heart. Tearing down a Pride flag is a message all on its own, however."
Similarly, the Pride banner at Scarboro United was damaged by cuts and burn marks along with the word "repent" written in black marker. In an official statement on the church's website, the Rev. Erin Klassen said, "This most recent experience is an important reminder that being an Affirming Congregation, an Affirming Region, an Affirming Denomination, an Affirming Society, does not happen by accident and should not be taken for granted. It requires intention, discernment, agency, and action."
We ask for prayers for both communities of faith and express solidarity with all LGBTQQIA+ and Two Spirit communities that continue to be the target of hate crimes. At times like this, we remember and reaffirm our commitment to working for justice and inclusion for all.