A memorial register honouring children who died at residential schools (TRC Call to Action 72) will be launched on September 30, 2019.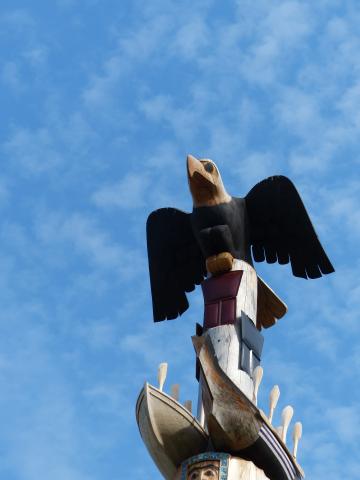 The Reconciliation Totem by Haida carver James Hart at the University of British Columbia.
Credit: Sara Stratton
Published On: September 26, 2019
God of our Ancestors,
who holds the spirits of our grandmothers and grandfathers
and the spirits of our grandchildren,
Remembering the Children,
we now pledge ourselves to speak the Truth,
and with our hearts and our souls to act upon the Truth we have heard
     of the injustices lived,
     of the sufferings inflicted,
     of the tears cried,
     of the misguided intentions imposed,
     and of the power of prejudice and racism
which were allowed to smother the sounds and laughter of the forgotten children.
—from Remembering the Children Prayer (2008)
On September 30, 2019, The United Church of Canada will be part of a ceremony to publicly remember those children who did not come home from residential schools.
Call to Action 72 of the Truth and Reconciliation Commission of Canada (TRC) called for a memorial register of children who died at residential schools, so that their lives and names will never be forgotten. After consultation with Elders, the National Centre for Truth Reconciliation will release the first group of names at the Canadian Museum of History in Gatineau, QC at 10 am on September 30. These 2,600 names include those of 240 children who died in 14 schools run by The United Church of Canada.
Bernice Salteaux of the National Elders' Council, Cathie Cunningham of the National Indigenous Council, and General Secretary Nora Sanders will attend the ceremony on behalf of the United Church.
Sanders says that for the United Church, "this is a time to publicly honour those children who did not return home from the schools we ran, and the terrible loss that their families suffered. We recognize the pain that seeing and hearing their names will cause for school friends who remember them from childhood, as well as for relatives, including those who never had the chance to know them."    
The National Student Memorial Register is available online. It will contain the names of students who passed away at residential schools and the name of the school. It will not contain any other information. If you are a relative and want to find more information, you can contact the National Centre for Truth and Reconciliation to receive it. 
The names of many children are still to be found. If you have information on missing children not on the list, you can provide that on a confidential basis directly to the Centre.
How can you participate in this act of reconciliation?
Remember, if you are a non-Indigenous person, that this act of reconciliation offers both healing and hurt to those most affected. Please travel humbly and with kindness as you strive for reconciliation and justice.
Pray for the children who did not return home, their friends, families, and communities. Pray also for our church to remember and atone for the role we played in the deaths of these children. You may wish to use the Memorial Prayer for Children of This Land offered by Indigenous Ministries. You are also urged to join in National Anglican Indigenous Archbishop Mark MacDonald's Four Days of Prayer for Children Who Did Not Return Home (September 27–30).
Watch the September 30 ceremony on Aboriginal Peoples' Television Network on the evening of September 30. It will air at 5 pm Pacific, 6 pm Mountain, 7 pm Central, 8 pm Eastern, 9 pm Atlantic, and 9:30 pm in Newfoundland.
Read the names of the children who did not come home. Prayer or ceremony may help you to do this in a good and respectful way.
As residential school survivors encounter this information, the registry, and see or hear the names of those lost, please know that many, many will be gently offering their prayers. 
If you need direct help, please call the Residential School Survivors' Hotline at 1-866-925-4419.
For more information, contact:
Sara Stratton
Reconciliation and Indigenous Justice Animator
SStratton@united-church.ca
416-231-7680 x2742
1-800-268-3781 x2742