Any action needs to have integrity and time for deep reflection.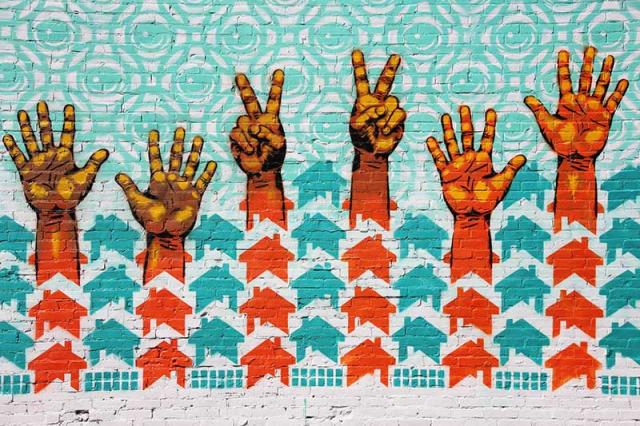 "Hands Up for Peace!" mural in St. Louis, Missouri.
Credit: Paul Sableman, Flickr (CC BY 2.0)
Published On: June 24, 2020
The 43rd General Council's electronic meeting on June 20 received as new business the proposal Towards an Anti-Racist Denomination (see from page 2 on of Referral document). Written by Commissioner the Rev. Bob Fillier, the proposal asks the church to demonstrate its commitment, through a broad analysis, and implement a series of initiatives to rid itself completely of bias and racism.
Because the proposal was received so close to the time of the meeting, many Commissioners did not have the opportunity to digest it fully. The concern was that any action needs to have integrity and time for deep reflection. That was not possible in the two-hour window time of the electronic meeting. As a result the Commissioners referred the proposal to the General Council Executive. The Executive is directed to use it as guidance for strategic planning, prioritization, and implementation. It will report on this work to the 43rd General Council when it meets electronically in October.
This proposal came to the General Council meeting held just days after the Executive's Statement that Black Lives Matter was released. The proposal states:
Public statements are not enough. Words are not enough. This is a moment for The United Church of Canada to wrestle with its white privilege, its role in systematizing anti-Black racism within its own policies, procedures, and practices, and its role within the wider Canadian context. There is a need to make becoming an anti-racist denomination and dealing with anti-Black racism within our denomination a missional priority at all levels of the denomination.
From the discussion that occurred at Saturday's meeting, it was clear that this call to action resonated strongly with Commissioners.
This proposal is now added to the work of the Executive's Working Group on Anti-racism. The working group is also looking at revisions to the United Church's harassment policy to strengthen its application to racialized people, and has requested that additional opportunities be provided for racial justice training in the church.
The Working Group on Anti-racism will work alongside the White Privilege Working Group to review the elements of the proposal, and possibly to develop other approaches, to set priorities and concrete actions to address racism within the United Church and our society.
The Executive's report will be presented at the next meeting of the 43rd General Council on October 24, 2020, beginning at noon (EDT). The meeting will be webcast live on YouTube.