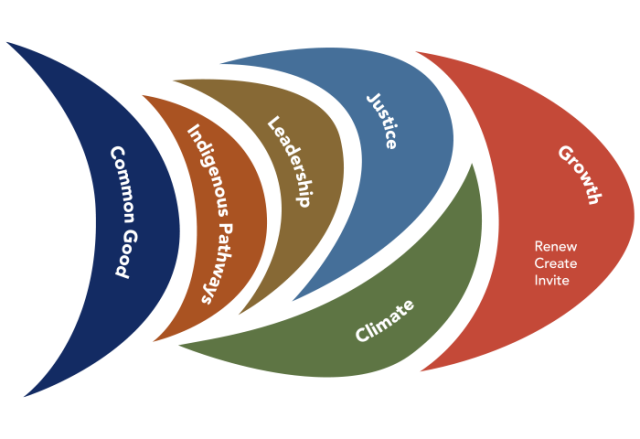 Credit: The United Church of Canada
Published On: January 19, 2023
As the United Church embraces a new Call and Vision and makes Growth a key priority, the denominational office will integrate the expertise, energy, and ethos of its semi-autonomous innovation arm—EDGE: A Network for Ministry Development.
As a result of an audit of EDGE, which included examining how it connects to the new Strategic Plan, the work and staff of EDGE will be integrated into the core work of the General Council Office in 2023.
EDGE was set up in 2011 to activate and renew innovative ministries in the denomination.
The audit concluded that the reasons why EDGE was created are still critical. Innovation, creativity, and engagement with external and internal stakeholders are more important than ever. As General Secretary the Rev. Michael Blair describes: "The transformative ethos of EDGE needs to infuse the entire church from the inside out."
Positioning EDGE at the core will deepen capacity and expertise in areas of the United Church Strategic Plan, particularly the Growth objective. Integrating EDGE will assist the whole church in
generating and harnessing innovation
using data to inform planning and decision making
developing generative partnerships
equipping and empowering curious and adaptive leaders
experimenting with freedom to fail and learn
EDGE will bring particular capacity to the Growth objective, which focuses on renewing, creating, and inviting. This will be matched with other strengths in the General Council and regional council offices and with new staff. For the Growth objective, the national church will work with regions to nurture existing and new communities of faith.
In practical terms, EDGE staff and functions will become part of the new Organizational Development and Strategy Unit, which also includes connecting communications and planning functions.
A Director of Growth and Ministry Development, reporting to the Executive Minister for Organizational Development and Strategy, will be hired to help define and implement the Growth objective, including integrating critical aspects of EDGE.
Even while this transition will occur through 2023, EDGE's outstanding obligations will be honoured, including committed multi-year grants, existing EDGE coaching contracts, as well as a key Leadership project funded by Trinity-Wall Street.
Embracing the Spirit Grants have been paused while this transition occurs. No new coaching contracts will be engaged for a four-month period (until May 31, 2023) as these EDGE services and others are assessed in conjunction with the new Strategic Plan. EDGE staff will continue to offer already planned programming for 2023 (visit CHURCHx.ca for several of these offerings).
The General Council celebrates with the church the incredible contributions of EDGE staff, volunteers, and champions, whose dedication has contributed to significant transformation over the last decade, including the creation of Buying United and Kindred Works, as well as significant advancement in social enterprise development. General Secretary the Rev. Michael Blair concludes: "With deep gratitude, we look forward to a new chapter with EDGE where what it has learned is harnessed for the renewal and transformation of the whole of the church."