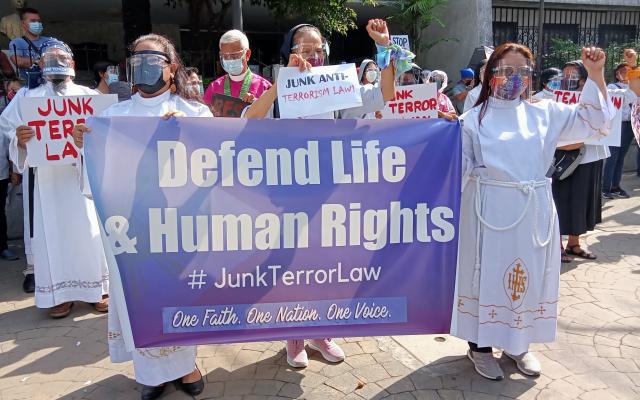 Church leaders in the Philippines protest against the Anti-Terrorism Act of 2020.
Credit: Jonathan Sta. Rosa (National Council of Churches in the Philippines)
Published On: June 9, 2023
In 2020, the Government of the Philippines passed an Anti-Terrorism Act that allows attacks on the basic rights of those who oppose the government, all in the name of fighting "terrorism." Since then, the Philippine government has misused the act to attack human rights and human rights defenders through extrajudicial killings, false accusations, arbitrary arrests, detention, and other means.
The United Church of Canada, with other denominations and organizations, is very concerned that the Canadian government is inadvertently funding these attacks by providing support to the Government of the Philippines.
Join us in taking action by writing Foreign Affairs Minister The Honourable Mélanie Joly, MP, and your local MP to request that the Government of Canada
clarify how projects aimed at fighting terrorism in the Philippines are monitored
stop supporting the Philippine government's counter-terrorism campaign
call on the Government of the Philippines to repeal the Anti-Terrorism Act
More information and the letter template can be found on the Act Now page.