Raise your spirited voices for justice and the care of creation.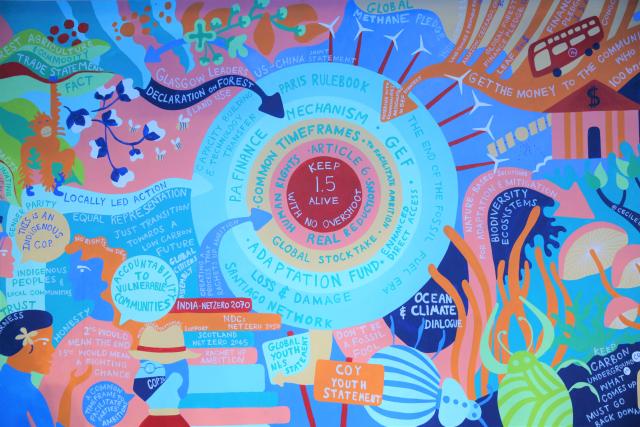 Keep 1.5 Alive mural, COP26
Credit: UN Framework Convention on Climate Change
Published On: October 28, 2022
Against a backdrop of multiple climate crises and a growing sense of urgency to address the climate emergency, the United Nations Climate Change Conference, COP27, will be held November 6-18 in Sharm el-Sheikh, Egypt.
A global ecumenical delegation organized by KAIROS and For the Love of Creation (FLC) will be attending this critical gathering. This delegation puts in the forefront communities that are most impacted by climate change and most marginalized from decision-making tables. The delegation includes women peacebuilders, land defenders, and Indigenous and youth leaders from the Global South and Turtle Island. They head to COP27 to raise awareness of their critical and urgent role in addressing the climate crisis, to strengthen common efforts, and to advocate with the Canadian government and other leaders on the policies and programs needed to support the leadership and solutions of partners and communities most affected by the climate crisis. The delegation is participating under the accreditation of The United Church of Canada.
While delegates from across the globe convene in Egypt for the UN Climate Change Conference, members of The United Church of Canada here at home are invited to raise your spirited voices for justice and the care of creation.
Voices to COP27, November 3, 2022, at 8:30 a.m. EDT; follow-up conversation at 8 p.m. EDT
Join an online conversation with the KAIROS/FLC delegates just before they leave for Egypt to hear about their purpose, mission, and perspectives on climate justice. This is a trilingual event. You can also watch on Facebook Live. 
Candles for COP27: Vigils for Climate Justice, Weekend of November 11-13
You are invited to hold or attend a vigil for climate justice in your community at the midway moment in the COP proceedings. This is a great opportunity to gather, pray, learn, and raise your spirited voices. Find specific advocacy actions you can take on the Candles for COP27 page.
Updates from the Delegation, November 8-20, 2022
Daily first-hand testimonies and updates from delegates will be posted on the KAIROS website. Just select the COP27 slider. Follow hashtag #UCCanCOP27 and #FLCKairosCOP27, and please share these! Amplifying the voices of those who are most affected by climate change is critical to moving hearts, minds, and policies towards climate justice. Change requires all of us to act.
The list of delegates, with bios and video messages, are available on the KAIROS website.
To keep up to date on news, resources, and opportunities related to climate justice, please sign up for the Concerned for Climate Justice newsletter.
For additional information, please contact .