The United Church of Canada and its global partners work together in God's mission for wholeness of life.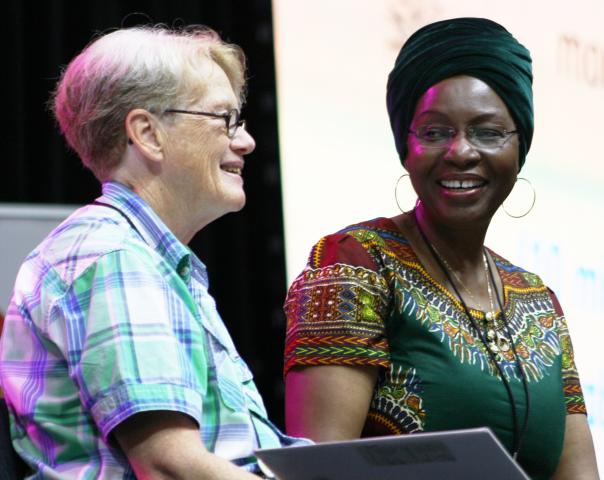 The Rev. barb janes and Dr. Isabel Apawo Phiri, World Council of Churches
Credit: The United Church of Canada
We believe that God calls the Church
        to do separately only what it cannot do with others.

"Whole world ecumenism" calls the church to make common cause with individuals and institutions of good will who are committed to compassion, peace and justice in the world…all people of compassion and wisdom need to work together in the common task of caring for one another and the whole of God's creation.

—From Mending the World: An Ecumenical Vision for Healing and Reconciliation: Adopted August 1997, 36th General Council of The United Church of Canada
Global and Global Ecumenical Partners
The United Church works with approximately 85 partners in God's mission around the world. Global partnerships are formal relationships with national churches, ecumenical organizations, Christian councils, church agencies, and civil society organizations around the world—who connect with and support a much wider range of church and community organizations. Global partnerships grow from our history and experience of collaboration with others. We are one partner among many, journeying together in humility toward relationships that are just, honest, respectful, and life-giving.
Our work together with global partners reflects the church's commitment to join with others in the common task of caring for one another and the whole of God's creation, to see a world transformed by love. This work of courage and faith in the midst of situations that can include oppression, poverty, and conflict challenges us in the United Church to deepen our commitment to partnership in all its forms. We are one partner among many, called to receive and to give.
The United Church has Mission & Service global partners in Africa and the Middle East, Asia, and Latin America and the Caribbean, as well as global ecumenical partners with global mandates and membership. Please see Downloads below for a map, a list of global partners, and a list of global ecumenical partners.
Partnership Principles
We have been involved in global partnerships, through our antecedent denominations, since before church union in 1925. What we have learned through our common effort is expressed in our partnership principles.
Partnership describes sharing and exchanging resources, ideas, and people. Partnerships are how we live out right relationships—relationships that reflect Christ's character of justice and love, based on respect, equality, trust, sharing, and transparency. The United Church's partnership work is centred in principles (adopted in 2008) that include equality, trust, and mutual respect, and shared commitment to resist all forms of oppression. Please see Principles of Global Partnership: What's It All About? under Downloads below for an inviting introduction to this complex topic.
Reports and statements detailing the United Church's understanding of global partnership can be found on the United Church Commons. 
People in Partnership
You are invited to join us in building connections around the world. The People in Partnership program provides a framework for the exchange of people (from Canada to global partners, and from global partners to Canada). The program enables United Church people and global partners to encounter each other, accompany each other in God's mission, and learn more about each other's contexts. 
A Code of Conduct and other information can be found on the Safe Spaces in a Global Context page.
Partner Council
The Partner Council ensures that the voices of global partners are represented in our governance structures, providing advice and feedback to the church from a global perspective. We are grateful to global partners for their willingness to accompany us in our mission and ministry, and to contribute the gifts of their time, talent and wisdom.
The United Church Partner Council draws together perspectives from each of the regions where the United Church works with global partners (Global Ecumenical, Africa and the Middle East, Asia, Latin America and the Caribbean). Individuals from partners in each of those regions provide their voice and experience, and their regional expertise, to the council.
Bios of the current Partner Council members are available under Downloads, below.
Downloads