The people of the United Church are committed to turning compassion into action.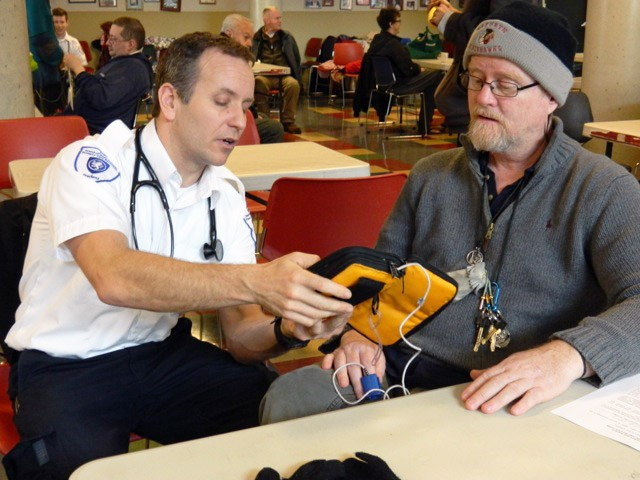 A client receives medical treatment at Our Place, Victoria, BC.
Credit: Our Place
Compassion lies at the heart of generosity.  
From serving a hot meal at a local community kitchen, to visiting a lonely neighbour, to financially supporting those in need in our local communities and around the world, the people of the United Church are committed to turning compassion into action.  
In the last year alone, those who attend and support The United Church of Canada gave over $25 million to people in need and projects that matter. 
How did we raise over $25 million in a year? 
It's pretty basic. We share.  
United Church people across the country join together to share what we can. We give to people and places in need through a unified fund called Mission and Service. In 2021, total Mission and Service gifts—including congregational and emergency giving, will and life insurance gifts, special gifts, and support from the United Church Women—amounted to an amazing $25,686,000.
What does Mission and Service do? 
We share our resources with three goals in mind:  
to help transform lives 
to inspire meaning and purpose 
to build a better world 
How do you transform lives through Mission and Service? 
To put it simply, we help.  
Locally, we help people by supporting homeless shelters, food banks, community kitchens, and refugee programs. We help young people on campuses and through camping outreach. We help people who are sick or at the end of life by supporting addiction, mental health, and counselling services and hospice care. 
Globally, we support people to access clean water, food, and medical care. We support skills training and economic development. We help with peace-making and sustainable agriculture efforts. We provide disaster relief and advocate for the rights of those who all too often don't get a say, like children and migrant workers. 
How does Mission and Service inspire people to live with meaning and purpose? 
We support opportunities for people to grow spiritually in all kinds of ways.
Locally, we support theological schools and education/retreat centres. We support events that promote spiritual development and personal reflection. We support new and innovative ministries, as well as communities of faith that are remote or in need. Globally, we support church organizations that work with theological schools, and we support places that offer practical training in agriculture and health.
It's a win-win. We trust that when people are in tune with their meaning and purpose, they will naturally want to help transform lives and make the world a better place for all.  
What's our approach? 
It's all about respect. 
We work in partnership with people and organizations and never impose our solutions, ways of doing things, or belief systems. We aim for long-term solutions over quick fixes because we want to make a lasting difference. At this very moment, we are working alongside 72 partners in 21 countries around the world. We've built many of these relationships over decades. These vital partnerships allow us to maximize generosity in places that desperately need our help, and put donations to work quickly and effectively when disaster strikes almost anywhere in the world.  
Learn more about how we work with partners to make a worldwide impact. Check out these inspiring stories of the difference we make. 
How can I give to Mission and Service? 
Thanks so much for your generosity! 
The United Church offers many ways to give. You can make a worldwide impact by donating through Mission and Service, help a special project by giving a meaningful gift through our gift catalogue, or support emergency and disaster relief—and so much more.  
However you choose to give and whatever amount you are able to give, your generosity will help transform lives! Thank you.  
Learn more about ways you can give, or make a donation.
Reach out to our team
We love to talk about the difference Mission and Service makes. Connect with us at
Downloads