To attract new visitors, some congregations rely on spirituality with a dose of humour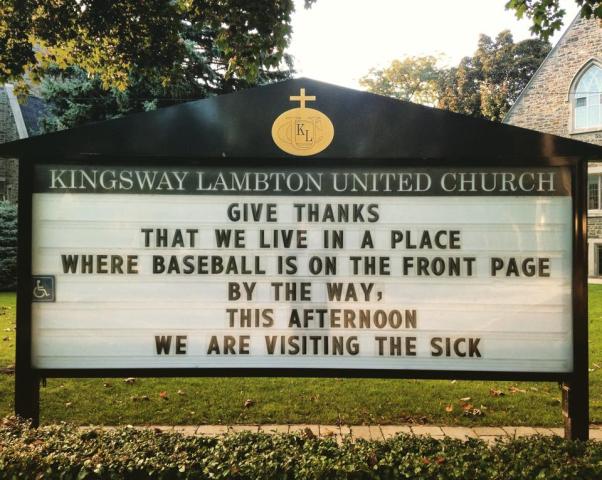 Kingsway Lambton United Church, during last year's baseball playoff run by the Toronto Blue Jays.
Credit: Aaron Gallegos
Published On: August 31, 2016
The United Church of Canada doesn't have a singular motto or slogan it is known for, though there are many strong statements already in use across the church. On our website's home page, under our name, are these words: "Discover the power of prayer, action, and community."
The motto on our crest, ut omnes unum sint, means "That all may be one" and is taken from John 17:21. It reminds us that we are both a "united" and "uniting" church. (The United Church of Christ uses almost the same wording for its logo, "That they all may be one.")
EDGE Network for Ministry Development and Embracing the Spirit, which is seeking to support new forms of ministry within the church, uses the line, "God is up to something. Are you in?" to encourage people to think about how they could develop new forms of ministry.
Here are some individual United Church mottos from across the land, from east to west. If your church has a catchy motto or slogan not listed here, please let us know by leaving it as a comment below or email  .
Trinity United, Newfoundland: "We must do our best."
Memorial United, Clarenville, Newfoundland: "Yes, you belong."
St. Andrew's United, Truro, Nova Scotia: "A Place To Meet God Through Community."
Lennoxville United, Sherbrooke, Quebec: "We take the Bible seriously, not literally."
Central United, Moncton: "Rethinking the Story" (that church's website says this is "a reference to our commitment to Christian re-education based on 21st century knowledge and understandings"). 
Islington United, Toronto: "Open Hearts, Open Minds, Open Doors" (which is the official motto of The United Methodist Church in the United States; it is also used by St. Andrew's United in Golden, B.C.)
Kingston Road United, Toronto (temporary sign): "Free beer. Just kidding. Free Jesus every Sunday morning"
Strathroy United, Strathroy, Ontario: "Come and experience the excitement"
Heart Lake United in Brampton took down this message that was posted on a signboard outside: "Lying in bed shouting "Oh God" doesn't constitute going to church."
Blenheim United, Blenheim, Ontario: "Care and Compassion for All."
Lawrence Park Community, Toronto: "United, Unlimited, Unorthodox." (That church's website says: "We're not really sure what "unlimited" is supposed to mean, anymore, but we're having too much fun to worry much about changing our motto. Ambiguity can be good.")
Brooklin United, Ontario: "Yesterday, Today, Forever."
Trinity United, North Bay, Ontario: "Founded on the rock, sustained by faith."
Runnymede United
, Toronto: "Come to life."
Aurora United, Aurora, Ontario: "Uniting Hearts and Hands on the Journey."
All Saints Kingsway (Anglican), Toronto: "Be a rebel: Come to church."
Eglinton St. George's United, Toronto: "Extending Love – Serving Others – Growing in Faith."
Harcourt Memorial United, Guelph, Ontario: "Seek – Connect – Act."
Windermere United, Toronto: "Open to Spirit, Open to You."
Riverside United, London, Ontario: "Faith, Support, Respect."
First Pilgrim United, Hamilton, Ontario: Church member George Lees had this saying: "Do your best and leave the rest to God."
Bruce United Church Cooperative, Ontario: unofficial motto: "Delay the Pearly Gates; Join a Church."
Brandon Central United, Manitoba: "A church with a heart in the heart of the city."
Hillhurst United, Calgary: "Whoever you are, wherever you're at, join us on the journey."
Parkdale United, Calgary: "Building Connections, Living Faith, Acting for Justice."
Devon United, Alberta: "If it is to be, it begins with me."
Scarboro United, Calgary, outreach motto: "The Church Has Left the Building." 
Knox-Metropolitan United, Edmonton: "That all may be one."
Christ Moravian Church (Moravian), Calgary: "iPad? iPod? try iPray!"
Glenmore Temple (Salvation Army), Calgary: "God Is Our Wireless Provider."
First United, White Rock, B.C.: 90th anniversary slogan, "Put on a Happy Faith."
Ladner United, Ladner, B.C.: Our motto is "A heart for God in the heart of the Village."
Gordon United, Gordon B.C.: "Faith for today, Faith for tomorrow."
Highlands United, North Vancouver, B.C.: "Whoever you are, whatever you want to ask, you are welcome and accepted."
St. Andrew's-Wesley, Vancouver: "We encourage you to come in, find a seat and know that however you found this place, we are glad you are here."
First United Church, location unknown: "Sin bad, Jesus Good. Details inside."
Grace United, location unknown: "Jesus is an investment that never loses interest."
Shanghai Community Church: An image of fingers in front of a pair of lips, shushing them, with the words in Chinese and English;: "Clean, Quiet, Respectful."
Additional suggestions from the web:
Seven days without prayer makes one weak.
A candle loses nothing by lighting another candle.
A lot of kneeling will keep you in good standing.
A.S.A.P. – Always say a prayer!
Don't tell God how big your storm is, tell the storm how big your God is.
Google doesn't have all the answers.
Got Jesus? It's hell without Him.
Is Your Life Running On Empty? Free Fill-Ups Here Every Sunday!
— Paul Russell is Communications Coordinator with the Office of the Moderator and General Secretary.