The Kyofukai offer emergency shelter for women in Japan escaping from violence and abuse.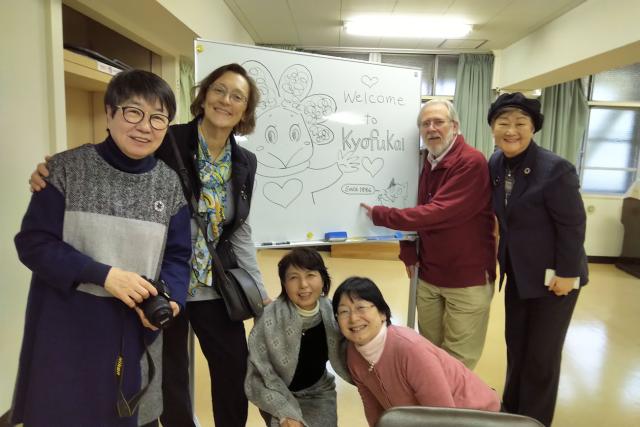 (Left to Right) Kiyomi KAGAMI, Kyofukai staff: Patti Talbot, UCCan Global Partnership staff; Mizuho IIDA, Kyofukai Board Chair; Keiko SAITO, Kyofukai staff; Rob Witmer, retired UCCan overseas personnel; and Yaeko SUMI – Kyofukai Board Member
Credit: John Durfey / The United Church of Canada
Published On: April 15, 2019
How is the church in Japan responding to issues relating to violence against and the exploitation of women? I learned about part of that response when we visited the Kyofukai, the Japan Christian Women's Organization of the United Church of Christ in Japan (UCCJ), a long-time partner of The United Church of Canada. With me on the visit in early February 2019 were Patti Talbot, the United Church General Office staff responsible for partnerships in Northeast Asia; and "retired" United Church mission personnel Keiko and Rob Witmer now living in Tokyo, where Rob is Principal of the Seminary for Rural Mission, also affiliated with the United Church of Christ in Japan.
We visited the Kyofukai's "House in Emergency of Love and Peace," more simply known as the HELP Centre. This emergency shelter for women escaping from violence and abuse is completely unmarked and located in a quiet back street in a busy district of Tokyo.
From its founding in 1886, Kyofukai members have campaigned on women's welfare issues, including petitions against prostitution, for monogamy, and for an end to trafficking of women overseas. As early as 1894 the Kyofukai established a shelter for women returning to Japan after overseas exploitation.
These days the Kyofukai advocates and provides counselling on a wide variety of issues affecting Japanese society, from sexual exploitation to peace issues relating to the Japanese constitution, to child abuse and eating disorders.
As part of its Sexuality and Human Rights program, the Kyofukai established the HELP women's shelter on its one hundredth anniversary in 1986. The HELP centre acts as a temporary emergency shelter for single women and women with young children for average stays of two weeks, until alternate accommodation can be arranged. Clients are accepted at HELP without questioning as to nationality or residency status, and receive their own private room. While most of the women who receive assistance are Japanese, a significant minority are from countries in Southeast Asia. Cheerful play areas and an outside garden have been set up for children accompanying their mothers.
To facilitate communication with clients, there are staff at HELP from Japan as well as from Southeast Asia. A variety of languages and cultural experiences is essential for the telephone counseling provided by the centre. In addition to professional social work skills, I was interested to learn that the staff team also offer clients yoga, dance and music therapy.
The HELP shelter is located in a decades-old building beginning to show its age. From mission funds held in Japan, the United Church has provided much-appreciated financial support toward upgraded security systems, and a variety of improvements to the facility.
The leadership of the Kyofukai is developing a long-term plan for the HELP centre. The vision is to integrate the emergency housing facility with a shelter providing longer-term, transitional housing, to better support women preparing for a new life after violence trauma. With such a vision and plan, the Kyofukai hope to continue to provide emergency services to women in crisis into the future as it has been doing for well over a century. 
—John Durfey is member of Port Nelson United Church in Burlington, ON who represents The United Church of Canada on the "Inter-Board Shadan," a mission foundation in Japan. He has written two other blogs about his 2019 visit to Japan partners: "Crowned with Thorns on the The Buraku Liberation Centre, and "A Growing Community" on the Asian Rural Institute.
May is Asia Heritage Month. Visit our worship section for worship and prayer resources from The United Church of Canada.