Have you recognized a gift or passion in your neighbour? Have you ever told them or encouraged them? This is the time.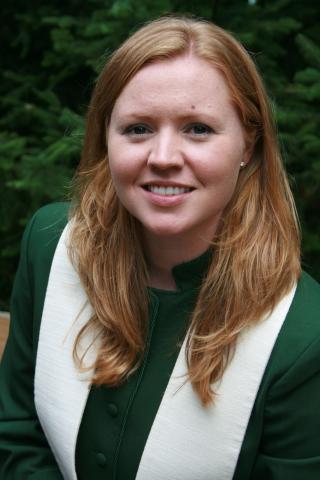 The author's portrait from her first pastoral charge, Binkley United Church in Hamilton, ON.
Credit: Katherine Corlett
Published On: April 27, 2020
In the lead up to Vocation Sunday, I reflect on the opportunities I've been given to learn and grow as a leader in communities of faith. When I think about the things communities of faith have let me do over the years, I am a little surprised. I realize now how blessed I was to be in communities that not only invited me into the fold, but also encouraged me to test my abilities and leadership skills. Even Moses needed the help of his older brother Aaron when he was first called by God.
I remember and am grateful to the many Christians who took their time with me, taught me how to do things, and encouraged me to grow. I remember a retired schoolteacher who taught me the importance of respecting volunteers' time by starting and ending meetings on time, being well prepared, and sharing information for meetings well in advance. I remember an elderly gentleman who taught me how to chair a meeting and write minutes. I remember the group of volunteers who, when I was made chair of a congregational outreach committee at the age of 20, took the time to sit down and strategize with me about how we might reorganize and enliven our group. I remember the minister who not only offered support and a listening ear, but also his pulpit and Bible study to let me try out my own leadership and preaching skills. I'll be honest—I wasn't great. But I learned.
Take some time to reflect on your church life. What has been important? What has been less meaningful? Consider your own vocation. Are you doing what you are called to do? Consider the vocation of those around you. Have you recognized a gift or passion in your neighbour? Have you ever told them or encouraged them? This is the time.
COVID-19 has brought us many new realities, some good, several bad. But perhaps you can use this moment to reflect on what has brought you to where you are. How have the communities of faith that you've been a part of impacted your faith journey? Who has influenced, helped, and taught you along the way? Are you doing what you are called to do? How can you help others respond to and test their call? How might you do that important work? Not just when things are back to normal, but right now? Could you call someone or write them a note? Maybe even a few? 
God bless all of our ministry personnel and church leadership, prominent and behind-the-scenes, who are discovering new ways to fulfill their calls in this unprecedented time. God bless all those considering ministry leadership—may they know that they are gifted and called. God bless this world as we find ways to connect during this time of physical distance.
—Rev. Bronwyn Corlett is Program Coordinator, Ministry Recruitment at the General Council Office. You can contact her by email. 
Vocation Sunday includes worship ideas, prayers, Minutes for Mission, and blog posts about vocation. Don't forget to check out Call Stories, too! 
If you have already planned something for May 3, 2020, please consider focusing on vocation on a different Sunday this spring! And mark your calendar for next year: April 25, 2021.