The Alvin Dixon Run/Walk at General Council 43 supports Indigenous education and helps us remember those who have gone before us.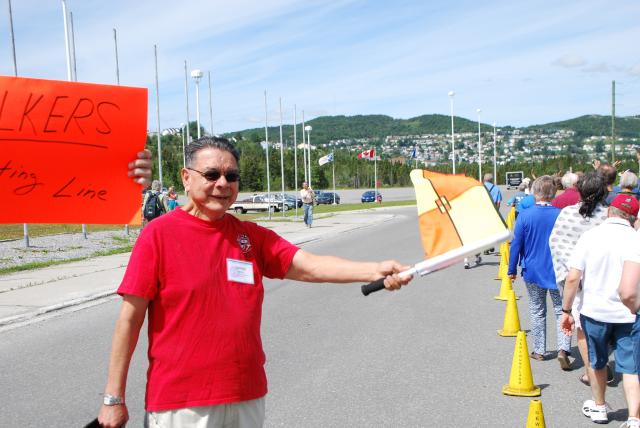 Indigenous elder Jim White holds a flag to start the Alvin Dixon Run at the 42nd General Council in Ottawa. Jim was a personal friend of Alvin.
Credit: The United Church of Canada
Published On: July 13, 2018
The wooden prayer cross has been on my desk since a trip to Bethlehem some years ago. The grain of the olive wood is beautiful to the eye, and the cross is shaped to fit perfectly in a hand for a time of prayer or contemplation.

When a team of colleagues from our office signed up as a relay team in the Mississauga Marathon in May, we received the following instruction:
 
Teams are encouraged to select a team "baton" to represent their cause or organization. It is recommended that this "baton" is something small and light in weight that will not impede running ability. For example, a team of runners representing a graduating class may choose a rolled up imitation diploma to pass from one runner to the next as the relay progresses.

The little prayer cross came to my mind immediately when I read this, and the rest of the team agreed to the suggestion, and so it was that this cross was passed from sweaty palm to sweaty palm over 42.195 km through the streets and trails of Mississauga.

Some of the same group are preparing now to take part in the Alvin Dixon Run and Walk at General Council. 
As we look ahead to a week with a lot of sitting and discussing and discerning, it is nice to have a small time in the agenda to do something active... an attempt to provide a little of the middle section of the mind/body/spirit balance that we all need. Of course for those who are not running fanatics, it's equally good to walk it. It's meant to be a fun event.
 
For those not running or walking, there is the option of sponsoring someone who is. Because in addition to being an active experience, it is a fundraiser to support the Alvin Dixon Memorial Fund for the support of Indigenous education. 
 
As I run, I will be remembering Alvin and the leadership he gave in our church. I will remember gratefully the wisdom, courage, and humour that he, as a Residential School Survivor himself, offered in his leadership on the Residential Schools and Indigenous Justice Steering Committee. 

The first Alvin Dixon Run was held at the 42nd General Council in Corner Brook. Everyone who took part in the 5 km run will remember the challenging hill on that run (it's pretty well impossible to run 5 km on the level in Corner Brook). Even more than that, I remember another Indigenous leader from British Columbia, Jim White, who has since joined Alvin in the next world, being there to start the race and walk in memory of his beloved friend.
 
See you in Oshawa. Very soon.

Nora
This message has been sent to subscribers to the General Secretary's Letter, "Note from Nora." You can subscribe here.