After the experience of war and forced relocation, the author's Japanese Canadian family is welcomed by the United Church.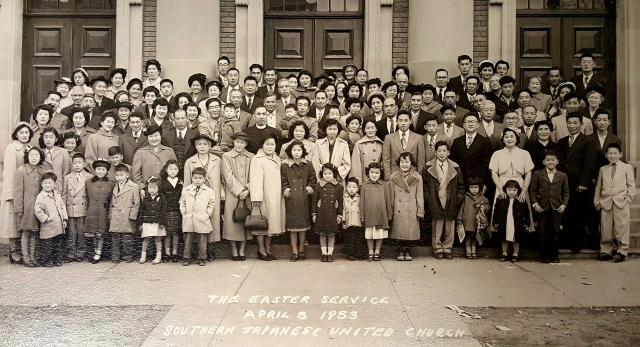 Southern Japanese United Church, Easter 1953. Kathy Yamashita is standing in front of her mother (white dress) in the front row.
Credit: Courtesy of Kathy Yamashita
Published On: May 17, 2018
I am a third-generation Japanese Canadian living in southern Alberta among the third-largest concentration of Japanese in Canada; the other two concentrations of population are in Vancouver and Toronto. In my city of Lethbridge, no one questions our presence here, because people have grown up with us in their midst.
During the Second World War, the Japanese were deemed to be "enemy aliens" and were forcibly removed from the West Coast of Canada to exile in relocation camps in the Interior of BC. Others came to do the hard labour of sugar beet farming in southern Alberta. Both of my parents were among those who chose to remain together as families and become farmhands. Conditions were harsh, and hope was bleak for a better life at that time. After the war was over, most Japanese people stayed on farms on the Prairies rather than returning to the racist atmosphere in Vancouver.
Dad's family were converted to Christianity by a Baptist mission in Vancouver and, when relocated to a sugar beet farm near Coaldale, Alberta, were ministered to by the Rev. Jun Kabayama, sent to us by the United Church Home Missions department. The feeling of belonging to a larger worship community was important to my family and a strong support in a challenging time. I am still a member of the Southern Alberta Japanese United Church located in Lethbridge, Alberta.
As I have aged, my faith in God has matured and I understand that if God is Love, then the carefree childhood and steadfast, gentle love of my parents and grandparents was a manifestation of God's presence in my life. In fact I was 25 years old at university before I learned of the Japanese Canadian exile of 1942. I questioned my parents about this and they said that they did not want to hurt us with the knowledge of that racist time. They knowingly kept it a secret, and I grew up thinking I was just as acceptable as anyone else that I met in my youthful years. I still feel that way. I believe it takes love and concern to nurture children in this way.
I grew up on a potato farm and attended Parkview United Church in Vauxhall, Alberta, all of my young life. I once asked my father why we were members of this church. He said that it was because this small rural church let divorced people attend. This made no sense to me, because none of us was divorced. With later knowledge of our exile, I came to understand that what he really meant is that the United Church accepted us even though we were Japanese, a recently unpopular group. I continue to believe that Jesus would want our churches to be fully accepting and supportive of all people.
The Japanese in Canada are fully active in society, and we work with everyone else to make our communities healthy. Education is important to the Japanese, so we are well represented among the professions like medicine, law, and education. This respect for education and family ties and environment is something we bring to Canadian mosaic—contributions that have been officially celebrated in Asian Heritage Month since 2002. I am so proud to be Canadian and a member of The United Church of Canada.
—Kathryn Fumiye Yamashita is President of the United Church's Alberta and Northwest Conference