Values of solidarity and justice shape United Church connections with the people of El Salvador.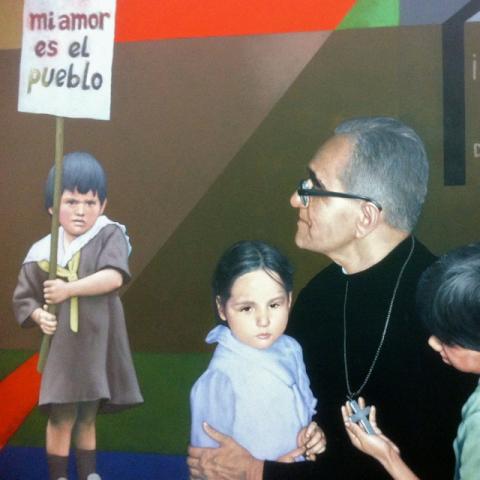 A detail from a mural at Monseñor Óscar Arnulfo Romero International Airport in El Salvador, showing Archbishop Oscar Romero and several children, one holding a sign that says "Mi amor es el pueblo." ("My love is the people.")
Credit: Jim Hodgson
Published On: October 12, 2018
In celebration of the canonization of Salvadoran Archbishop Oscar Romero this Sunday, we lift up the partnership between Bay of Quinte Conference and Mission & Service partner, Iglesia Bautista Emmanuel, as an example of the many ways The United Church of Canada has and continues to work with the Salvadoran people for justice and peace. May the faith and witness of the Salvadoran people continue to inspire us. Oscar Romero, Presente!
After a crowded five-hour flight, the first glimpses of El Salvador are peace for the soul: lush, grand volcanoes rise from the Pacific Ocean, patchwork fields teem with life, and puffs of smoke call to mind the sugar cane that is abundant here.
There is a cost to this beauty, one that is remarkably high for those who live here. 
"Being able to talk with the Salvadorans and keep in touch with them while back in Canada has shown me how different our lives are," says 16-year-old Emily French, a two-time pilgrim to El Salvador and member of Elgin-Portland Pastoral Charge in Portland, Ont. "In Canada, we can walk freely, without fear. In El Salvador, right now, they cannot."
French is one of dozens of youth and adults from Bay of Quinte Conference who have travelled to this tiny Central American country since 2012 to visit Emmanuel Baptist Church (IBE), one of The United Church of Canada's global partners supported through Mission & Service. 
But it's hardly a one-way relationship. The Rev. Miguel Tomás Castro, IBE pastor, has travelled to Canada as part of the Global Partner Council of the United Church. And last year two IBE youth—David López, 17, and Victor Hernández, 19—travelled to Canada to be part of Rendez-Vous, the United Church's gathering of youth and young adults, in Montreal. "In Canada, you treat each other with respect," López reflects. "I learned that our dream to have a better country without injustice, corruption, hunger, death, and violence is possible."
The Rev. Castro sees glimpses of Christ's holy realm in this relationship. "We are growing together. Our relationship is based on the values of God´s kingdom… fraternity, kindness, generosity, solidarity, equality, sharing, cooperation."
This past March, the Rev. Dr. Bill Smith, Executive Secretary for the Bay of Quinte Conference, was honoured by IBE for his commitment to peace and solidarity with the El Salvadoran community when he was awarded the Marîa Cristína Gómez medal of merit. Gómez is one of 26 IBE martyrs of the Salvadoran Civil War, a Christian who believed her fight for peace and justice was gospel-led. The medal is given to people who contribute to the peace and well-being of Salvadorans. Smith is only the second person from outside El Salvador to be honoured with this medal.
Smith's involvement in the struggle began in the early 1980s when Juan Antonio Sanchez, a Salvadoran refugee, walked into Emmanuel United Church in Ottawa, where Smith had just begun ministry. Within a month, 100 Salvadorans were worshipping at Emmanuel, even though they spoke no English. "He and Emmanuel United helped our people a lot," said Castro. Over the next few years, Smith visited El Salvador to witness the war and poverty for himself. "Bill accompanied us, shared with us in difficult moments," Castro added. 
During the final night of a recent trip, 15-year-old Esthercita Acosta addressed the group of 37 youth and adults from Bay of Quinte. "I just want to say I will miss you, and I love you. I hope this experience has helped you and helped us to be better people."
We help build youth centres and we fund scholarship programs as churches and individuals, but the true value of these trips is the relationships. They will not be lost in changing church structures: they will live in the hearts of those who have encountered God's mission at Iglesia Bautista Emmanuel, San Jacinto. 
 — Wanda Stride is Past President of Bay of Quinte Conference. This article was originally published in the Summer 2018 issue of Mandate magazine.
Does this blog pique your interest to participate in people-to-people opportunities with global partners? We invite you to find out more at the People in Partnership webpage or by emailing us.