The GC43 youth pilgrims experience the rich history and culture of Canada during their visit to Montreal and Ottawa Conference.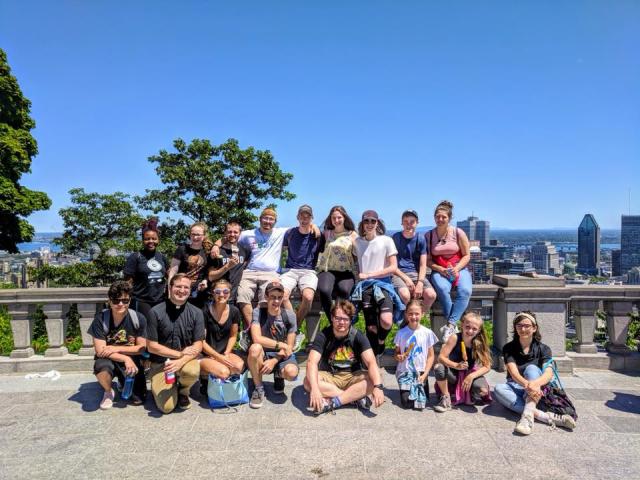 Credit: Courtesy of the GC43 Pilgrims
Published On: August 29, 2018
The GC43 youth pilgrims made their way across Canada this summer, with the goal of visiting every United Church conference, including a stop at the 43rd General Council meeting in Oshawa, ON. Read all the blog posts from their journey and see more pictures on their Facebook page and Instagram feed.
Our visit to Montreal and Ottawa Conference was an extraordinary learning experience.
In Montreal we were hosted by Trinity United Church. We were able to visit Saint Columba House, an eye-opening church and outreach ministry program that helped me realize the church doesn't always manifest itself in the more traditional "sit down and listen to sermons" format.
Taking part in the programs at the house showed me the various ways those who participate at Saint Columba house are connected to God and how learning new skills is weaved into their daily lives. They grow their own fresh vegetables in the garden on their roof, which are later used to supply their kitchen and the garden provides a social outlet for the participants.
Afterwards, we met with our humorous tour guide, Jean-Daniel, who led us in a very long hike with lots of stairs up Mount Royal. A physically demanding activity, but worth it for the view we got to see afterwards.
From Mount Royal, we walked to the Christ Cathedral Church where Jean-Daniel has based his ministry. After a brief tour of the old cathedral, we were invited to participate in a Bible study with some local youth and young adults. To end our programming for the day we went to a firework show in downtown Montreal that was accompanied with music played by a local radio station. Seeing the synchronization of the music and the fireworks was a very nice way to end our time in Montreal.
We were all very sad to leave Montreal, but at the same time we were very excited to travel by train to Ottawa, where we were greeted by Barbara Reynolds of MacKay United Church.
After arriving at the Mackay United Church to a delicious lunch catered by members of the congregation, we were whisked away to Parliament Hill where we got to learn about the history of Canada. Afterwards, we went to the Byward Market, and we got to have beaver tails and some free time.
After about an hour we all met back up at the Parliament building for the Fortissimo show, a realistic show about the war and how Canada reached confederation. We then stayed to watch the "Northern Lights" show on Parliament Hill, which was personally my favourite part because it was such a gorgeous display of Canadian history and beautiful lights.
The next morning, we were woken up to the minister playing the saxophone, and a delicious breakfast. We made our way to Rideau Hall just in time for our tour of the building. It was an educational experience being able to see how much history is contained in one building. Getting to see the portraits of each Governor General and how it reflected their agenda and their time in office was especially fascinating.
Rideau Hall was a great way to end our visit at Montreal and Ottawa Conference. Thanks to Trinity United, MacKay United, and everyone else who made our visit so memorable.
— by Aryanna Maxner, GC43 Pilgrim from Maritime Conference