By encouraging sharing and understanding, Asian Heritage Month transforms bleak cultural boundaries.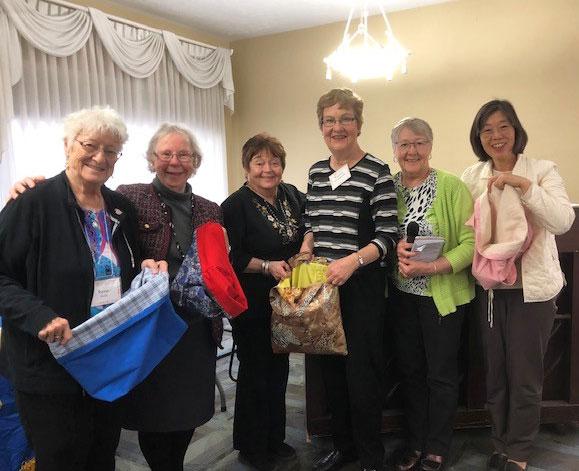 Author YoonOk Shin (right) and the United Church Women of the former Alberta and Northwest Conference.
Credit: Courtesy of YoonOK Shin
Published On: April 30, 2019
Since I moved to Canada, I have lived in three cities. Edmonton is the third city I've called home. It has one of the larger number of Korean immigrants of any Canadian city. Along with many other diverse cultures, Asian communities have been growing in Canada in recent years. 
I am a first-generation Korean immigrant. During my visa interview when entering Canada, a Polish-Canadian agent asked me if I was going to be an advocate for immigrant women in Canada, as I had been for abused women in Korea. 
I had only just set foot on this land when I was encouraged, and warmly welcomed by someone I had never met before. It was a life-giving gift, a true blessing that showed me what it meant to welcome foreigners and strangers. 
Many years ago, when I was attending a personal silent retreat at the Faithful Companion of Jesus Sisters (FCJ) Centre in Calgary, an older woman who was walking down the hall approached me and said, "I hope your stay here was good." Then she added, "You seem like you need a friend." I was silent for a few moments, and she continued saying, "If you don't mind, leave your contact number and I will have a person (nun) call you."
Ever since then, I have continued to go to the FCJ Sisters for a spiritual exercises group and I have received so many gifts. This encounter has allowed me to drop my barriers, and rely on God who is fully and ever present with us as our forever companion. One of the great experiences for me as the only Asian in this circle is that I am fully accepted. 
I have a friend, who is also a diaconal minister. We are colleagues who studied together. She has listened and walked each step along the journey with me as my sister. She encourages me to be brave and confident in who I am.
I have encountered many obstacles as a first-generation immigrant striving to become a Korean Canadian. Some of these struggles include overcoming a language barrier, trying to find some much-needed friends, and trying to find a community that I can belong to. It takes a lot of courage and confidence to settle in this land.
In trying to overcome these obstacles, I can empathize with others who are immigrants to Canada, which is why I have a passion for this intercultural ministry. I want to help make the transition easier for both young and old immigrants who are part of our United Church faith communities. I want to bring people together, people from all different cultures and traditions. I want to encourage them to meet on various occasions — in worship spaces, learning places, summer picnics, clergy gatherings, and especially in English language programs. My role is to provide a place and time for people to meet and gather together with others so that they can learn about and receive gifts from one another.
Recently, I had a very significant experience of breaking cultural norms. I was attending a gathering of the United Church Women of Alberta and Northwest Conference (now the Regions of Chinook Winds and Northern Spirit) with the theme "Who is my neighbour?" It was an exploration of intercultural ministries and interfaith relationships in The United Church of Canada. 
All participants were given a gift of fabric and Sharon Prenevost, advocacy chair, taught us how to make reusable shopping bags. My fabric was linen. 
Back home in Korea, linen is used to wrap a dead body before burial, just as in biblical times. It reminded me of my father's funeral, and my grandmother's. I felt so uncomfortable when I touched this fabric, but this linen is just another ordinary fabric for White Canadians.
While I shared my uncomfortable feelings about this fabric with Sharon and what it is used for in my home in Korea, she listened with respect, and I no longer felt uncomfortable to touch it. Instead, I felt God's great love and open arms welcoming me. 
I trust that I will continue to encounter experiences like this as long as I live in this diverse multicultural country. What a blessed faith journey we are on! There is much to learn from diversity — different languages, cultures, and worldviews show us how great is God's love, beauty, and freedom.
May is Asian Heritage Month. It is an opportunity for The United Church of Canada to celebrate and learn more about Asian cultures and traditions. 
God is so good and gracious, as we learn who we are becoming as Asians in this multicultural society and the world. I serve to pass on my experience, as well as my love, acceptance, and encouragement to others — especially to those who live in isolation, on the edge, and who feel they don't belong because of racial and language barriers.
I thank God for giving those of us who come from Asia much to learn about belonging and appreciating other races, cultures, customs, and traditions through The United Church of Canada, our faith home.
And I also thank God that we have much to offer — the gifts of each countries' history, art, language, respect for aging seniors, parents, and hard work. We are so proud to be Asian. 
Happy Asian Heritage Month! We are happy to be Asians in Canada and in the United Church!
— YoonOk Shin (DM), Intercultural Ministry Facilitator in larger Edmonton, is based at Sherwood Park United Church.
May is Asian Heritage Month. Officially recognized in Canada since 2002, this is a time to prayerfully reflect on the contributions of Asian Canadians to Canadian society. Take a look at our Asian Heritage Month worship resources.