Nora Sanders shares the inspiration she discovered in Fred Rogers and the faithful ministry and witness he offered as "Mr. Rogers."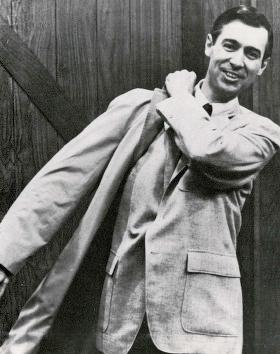 Fred Rogers, late 1960s
Credit: KUHT, Wikipedia Commons
Published On: December 16, 2019
It might be the first time in my life that I have left a movie theatre thinking about how I want to try to become a better person. That was how I felt after watching It's a Beautiful Day in the Neighbourhood.
We didn't have a TV when I was small, and anyway, I am of a different generation than the one that grew up with Mr. Rogers. I was aware that there was a Mr. Rogers who hosted some kind of children's show with puppets and a miniature town, but I wasn't particularly interested in knowing more about him until seeing last year's biopic about him, and now this inspiring dramatization of his relationship with a cynical journalist who was assigned to do a piece on him. Now I must describe myself as a huge fan of the late Mr. Rogers.
Fred Rogers died in 2003, forty years after his ordination as a Presbyterian Minister. I don't know if he ever served a congregation in the traditional sense, but he chose a different kind of ministry that touched many, many lives... those of people he met, like the children who came on his TV show or Tom Junod, the journalist on whose story the movie is loosely based, as well as those of countless other children and adults who watched him on television.
What touched me so deeply about the movie? I think it was the portrayal of a man who talked to children as real people, about real things in their lives, and who took time to listen to them too. A man who took the time to get to know a journalist who was likely intending to write something negative about him, and to help that journalist understand that he (the journalist) had goodness within him. A man who made that relationship a personal one, and a long-term one that helped the journalist reshape his life. To put it simply, a man who treated each person as someone truly special. 
I was also moved that the kindness and humanity that Mr. Rogers displayed were grounded in his deep Christian faith. In the movie, there are overt references to his practices of daily reading scripture, and praying for an assortment of people by name. It is very unusual these days to hear about that kind of genuine faith life in our popular culture, but they couldn't make a movie about Mr. Rogers without including it.
I realized how little understood these practices of faith are today when I read an interview with Mr. Rogers' widow, where she was asked about where he developed these practices, and then asked whether it was something he really did. The interviewer seemed to find it incredible and unique.
Maybe you will head to the movies with family or friends sometime over the holidays. If you go to see this one, I will be interested in whether it moves you as it did me. I am not sure that I will actually be a better person in the new year, but I would like to work at it.
Peace and grace be with you in this Advent time.
Blessings,
Nora 
 — Nora Sanders is General Secretary of The United Church of Canada. 
This message was originally sent to subscribers to the General Secretary's letter, "Note from Nora." Subscribe here.